Dates
23.03.2023 – 24.03.2023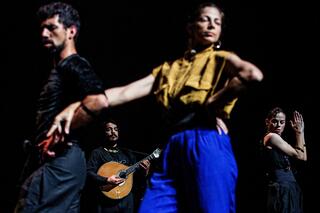 Bate Fado is a hybrid dance concert performance for nine performers: four dancers, four musicians, and one dancing fado singer.
Like most urban musical styles such as samba or flamenco, the fado, too, boasted its own dances. The most commonly practiced form in Lisbon was the fado batido, a vivid and virtuosic form of tap dancing. Jonas & Lander reinterpret the act of fado tapping, wherein the dance originates from the quality of the percussion instrument in dialogue with voice and guitars, in their piece Bate Fado. Thus, Bate Fado manifests as a spectacular step towards the rescue of the lost fado dance.
Duration: 110 min.
Accompanying Programme

| | |
| --- | --- |
| 20.03. 18:30 – 21:00 | Fado Batido Workshop with Ensemble Jonas & Lander |
| 24.03. 19:00 | Physical Introduction |
Artistic Direction, Choreography: Jonas & Lander; Research: Jonas, Lander Patrick; Performance: Catarina Campos, Jonas, Melissa Lopes; Lander Patrick, Lewis Seivwright; Bass: Yami Aloelela; Alto: Tiago Valentim; First Portuguese Guitar: Acácio Barbosa; Zweite Portugiesische Gitarre: António Duarte Martins; Vocals: Jonas; Composition: Jonas & Lander; Technical Direction, Sound Design: Filipe Peres; Lighting Design: Rui Daniel; Scenography: Rita Torrão; Special Effects: Vítor Estudante; Costume Design: Fábio Rocha de Carvalho e Jonas; Head of Production and Management: Patrícia Soares; Assistance Coordination: Filipe Metelo; Executive Production: Inês Le Gué.
A production of Associação Cultural Sinistra. A coproduction of Centro Cultural de Belém, Cine-Teatro Avenida, Teatro Académico Gil Vicente, Teatro Municipal do Porto, Theater Freiburg. Co-production residency in O Espaço do Tempo and further residency in mala voadora. With the creative support of Estúdios Victor Córdon / OPART. Research support from Casa-Museu Leal da Câmara, LIPA - Laboratório de Investigação de Práticas Artísticas da Universidade de Coimbra et Museu Bordalo Pinheiro. Discography of Valentim de Carvalho. This project is financed by the Portuguese Republic - Culture I DGARTES - Direção-Geral das Artes.
Supported by Kunststiftung NRW.
Click here for current stage events
Click here for an overview of all events