tanzhaus nrw
Erkrather Straße 30
40233 Düsseldorf
Tel +49 (0)211 17 270-0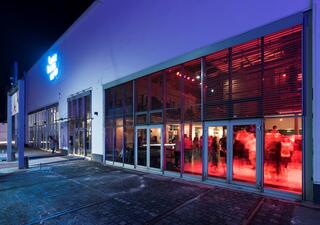 Public transportation
Worringer Platz stop is within three minutes walking distance.
Tram: Linien 704, 708, 709
Bus: Linien 721, 722, 732, 738, 834
Düsseldorf Hbf/Main Station stop is within ten minutes walking distance.
Parking
We offer a free parking lot for around 40 vehicles on our premises. Parking space is usually quickly occupied, which is why we recommend arriving via public transport or using the surrounding neighbourhood's parking spaces.
Dear visitors to tanzhaus nrw,
following the decision taken by the Federal Government on 10.02.2021, the house must remain closed to visitors until further notice. But we're ONLINE there for you with performances and courses. Please click HERE for more information regarding stage productions or HERE to receive more information about the proceedings in the Academy.
Lots of love, tanzhaus nrw
Academy /

Visitors' Service
| | |
| --- | --- |
| Mon - Fri | 15:30 - 20:30 |
| Sat + Sun | 11:00 - 15:00 |
You may phone the academy from Monday till Friday from 3.30 pm until 7 pm, with the exception of school holidays in North Rhine-Westphalia and public holidays, at 0211 17 270-27.
Ticketing
The ticketing staff will be personally available to you at the box office one hour before the respective performance. You may reach ticketing by phone at 0211 17 270-56 from Monday till Friday from 10 am until 3.30 pm, with the exception of the off-season as well as on public holidays.
Distance and hygiene regulations
Stay healthy and safe at tanzhaus nrw
Facemasks are mandatory in the whole building
Keep a distance of at least 1.5 metres to other visitors*
Please

use hand sanitizer

regularly
tanzhaus nrw may be accessed via ground level and is almost completely accessible and barrier-free within the house. Solely the old rails and cobblestones on the forecourt betray the venue's history. Please let us know of your intended visit beforehand at phone 0211 17 270-0 and we will gladly have a member of staff assist you.
Stage
All stage presentations at tanzhaus nrw offer free admission for a person accompanying a visitor in a wheelchair. Additionally, we offer one performance per month in German Sign Language (DGS) as well as with an audio description. Please refer to the details in our programme.
Academy
In general, participation of people with additional needs in courses & workshops is possible. Please direct specific questions to akademie@tanzhaus-nrw.de.
Nooij Dutch Deli
Always nooij. At the Nooij Dutch Deli, under the direction of Johannes and Nene Nooij, a diversified kitchen meets stylish interior design. Here, local and home-style meals are prepared in new and creative ways, similar to the comfort kitchen found in New York's Dutch quarter. The menu offers probably the tastiest chicken in town, homemade cakes prepared by the Deli's pastry chef, and breakfast offerings that make you weak in the knees with awe, as do their constantly changing lunch and dinnertime offerings. Eet smakelijk!
Please note that following the Corona-Schutzverordnung NRW, Noiij will remain closed. Take away and pick up orders are still available at the hours written below.  For current information visit www.noiij.de 

Tel +49 (0)211-6986689, deli@nooij.de oder www.nooij.de
Opening times for take away and pick up orders 

| | |
| --- | --- |
| Monday to Wednesday | closed |
| Thursday | 17:00 – 21:00 chicken pick up and delivery |
| Friday | closed |
| Saturday and Sunday | 12:00 – 17:00 cake pick up |
Click here for current stage events
Click here for the current academy programme