Livestream
Faustin Linyekula - ONLINE
Statue of Loss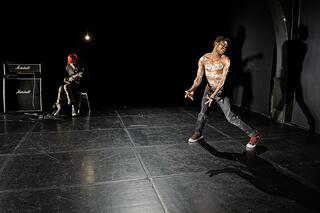 Which memories remain today, 100 years after the end of World War One, of the Congolese soliders who fought and died in Africa and Europe? Faustin Linyekula follows their traces in Statue of Loss, concerned with a man who attempted to erect a monument in their honour. Different documents gave a history, a face and ultimately a name to the Congolese soldiers who went to war for Belgium – a country that had enslaved them. Yet Paul Panda Farnana, himself a veteran and founder of the Congolese Union (Union Congolaise), wanted more than that. On the 23rd of October,1923, the president of the Congolese Volunteers complied with his enquiry, allowing for the building of a memorial. But Paul Panda Farnanda died under mysterious circumstances seven years later, still before he could have realised his project. Dancer and choreographer Faustin Linyekula asks, in this solo, how we might remember the Congolese soldiers who died for Belgium in World War One, differently, other than with the phantom of a monument that was never raised – a rock, a memorial of loss, a mere rumour?
Faustin Linyekula lives and works in Kisangani, in the northeast of the Democratic Republic of the Congo. Together with Opiyo Okach, he founded the Gàara Company, Kenia's first contemporary dance group, in Nairobi in 1997. In 2001, and back in the Congo, he created a space for dance and visual theatre in Kinshasa, offering training programs as well as support for research and productions, in the form of the Studios Kabako. He deals with the effects of decades-long wars, terror, fear and the economic collapse of himself, his family and friends. Faustin Linyekula regularly teaches in Africa, Europe, and the United States.
Duration: 40 min. / in English and French
Artistic direction: Faustin Linyekula; With: Heru (Music), Faustin Linyekula; Video: Pathy Tshindele; Video-assistant: Eric Okele Baya; Production: Isaac Yenga (Studios Kabako).
A coproduction by Festival Theaterformen Braunschweig/Hannover, LIFT Festival – London, 14-18 NOW – WW1 Centenary Art Commissions. This guest performance is part of VOLUME UP series, supported by Kunststiftung NRW. 
Click here for current stage events
Click here for an overview of all events
Festival · 06. – 22.08.2021
VOLUME UP
Unheard stories, disregarded knowledge