Premiere
Artmann&Duvoisin
Service & Gefühl
Dates
14.04.2023 – 15.04.2023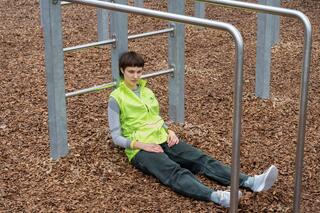 If I dance for you and you just do not feel it, who has failed whom, then? Does my heart need to be in it to take care of the hearts of others? What emotion-regulating power lies in care work?
Artmann&Duvoisin approach these questions based on conversations between artists and people in care occupations. The on-stage dancers make sincere attempts to feel intensely or to cause emotions, and they approximate their own sensitivity as a valuable resource from a personal and dance-technique perspective, always under threat by a logic of exploitation.
In this, they start a dialogue with other forms of emotional work: Which techniques of demarcation and boundlessness, of regulation and formalisation of emotions are opposite each other in artistic as well as in care work?
Dance as a body practice and art form is marked by its very closeness to emotion, to feeling and wellbeing. Simultaneously, work in the independent dance scene is always threatened by precariousness, self-exploitation, and overloading.
As a montage between dance, music, and language, this is the manner in which Service & Gefühl assembles work and everyday realities that are characterised by a more or less successful handling of emotions, and which puts one's own sensitivities into a service connection.
Elsa Artmann and Samuel Duvoisin have been working on performative and installation formats in dance and art contexts since 2015. The topics of their work are forms of social community such as the nuclear family, habitation, and work. In this, they are dealing with questions of collective composition and shared authorship as well as the political content of the dance occupation. Service & Gefühl is the third coproduction of Artmann&Duvoisin with tanzhaus nrw.
Duration: 60 min.
In German and English with English supertitles
Accompanying programme

| | |
| --- | --- |
| Sat 15.04. | Talk after the performance |
Relaxed Performance
This performance takes place as Relaxed Performance. Relaxed Performances are aimed at all those who feel more comfortable in a relaxed and sensorically relaxed atmosphere. The light in the auditorium is on to avoid complete darkness. In addition, hearing protection is provided if it should become too loud. Those who wish can come and go during the show. Silence is not mandatory. If you need a break, you can retire to the foyer. All tics are welcome.
Content Notes regarding the Relaxed Performance of Service & Gefühl
Notes on the performance and stagedesign
Several voices and music overlap from time to time.

In the first third and towards the end voices become louder at points.

Depending on the seat, the audience is adressed directly but there is no need to react.

The performers get dressed on stage and can be seen partially naked.

In some areas, you can experience the play without physical interaciton.

In other areas, you are addressed more directly. No reaction is expected.

With the assistance of the evening staff, you can choose your seat according to your needs.
Possible triggers in terms of content
The piece discusses issues around mental health.

Sex and power relations are addressed.

​​​​​​​
Concept: Elsa Artmann, Samuel Duvoisin; Choreography and Dance: Diana Treder, Anne-Lene Nöldner, Elsa Artmann; Composition and Live Music Setting: Annie Bloch; Outside Eye: Samuel Duvoisin, Valerie Wehrens, Lili M. Rampre; Costume: Noemi Baumblatt, Elsa Artmann; Graphics: Ondine Pannet; photo: Arne Schmitt; lighting: Luise Roßbach; sound: Thomas Meckel; video documentation and trailer: Cecilia Gläsker; press relations: neurohr & andrä; mentoring relaxed performance: Roisin Keßler (Un-Label); production management: Samuel Duvoisin; production assistance: Caroline Simmler.
A production by Artmann&Duvoisin, co-produced by tanzhaus nrw.
Supported by the Kulturamt der Stadt Köln and the Kunststiftung NRW. Supported by KunstSalon-Stiftung and Tanzresidenz 2023 im Quartier am Hafen.
Click here for current stage events
Click here for an overview of all events