Saïdo Lehlouh
Apaches / Urban Exchange Lab
Public space in Düsseldorf
Dates
24.09.2022 – 25.09.2022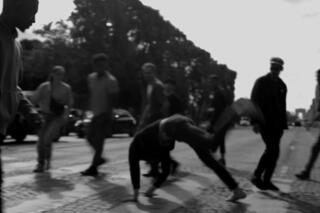 On the belle époque streets of Paris, a group of misfits appears, part gang, part subculture, that is mainly aiming for bourgeois Parisians, threatening them, assaulting and mugging them: the so-called Apaches Parisiens. In reference to those turn-of-the-century Paris gangsters, Saïdo Lehlouh invites 25 dancers from the regional and national urban scene to develop the performative intervention Apaches. Through this, Apaches gathers a group of artists whose dance cultures are existentially entwined with the street and urban spaces and who have been kept away from public spaces as well as from the stages of the highbrow theatres for a long time, while still struggling for visibility, resources, and acknowledgement. This group of selected regional dancers will work on Apaches during a week-long workshop format before bringing the intervention to four performances within the Düsseldorf city spaces. In a combination for eye level exchange, tanzhaus nrw offers the Apaches/ Urban Exchange Lab participants spaces and resources for a shared exchange, networking, and training, alongside workshops and performances.
Saïdo Lehlouh' roots lie in street dance, dancing with the famous Road Trip Crew, and he is among the directorial team of the Centre chorégraphique national de Rennes et de Bretagne, as part of collectif FAIR-E. The dancer and choreographer, having shown his first choreography Wild Cat here last summer, returns to tanzhaus nrw with Apaches.
Duration: 30 min.
Choreography: Saïdo Lehlouh; Dance: Adélaïde Desseauve, Bahar Gökten, Bernd Pierre Louis, Dalil Wave, Daria Nazarenko, Gloria Lucia Kapako, Hugo Burtel, Ilyess Benali, Johann Bae, Kofie Da Vibe, Kristina Kunn, Lizzie Lamprecht, Mathieu Rassin, Mika Albrink, Minh Uong, Nasrin Torabi, Nora Hertwig, Obinna Ejike, Paul Davis Newgate, Ruby Kofwski, Simeon Pohl, Sonja Reischl, Surena Fazelazar, Timothée Lejolivet, Yeliz Pazar; Production director: Céline Gallet; Outside Eye: Johanna Faye; Sound: Kevin Haccoun; DJ : Fatmir Ziberi.
A creation of Cie Black Sheep; Production: Garde Robe; Delegated production: CCNRB. The Centre chorégraphique national de Rennes et de Bretagne, directed by the collective FAIR-E, is an association subsidized by the Ministry of Culture (Direction régionale des Affaires culturelles / Brittany), the City of Rennes, the Regional Council of Brittany and the Departmental Council of Ille-et-Vilaine. With the support of Houdremont, scène conventionnée de la Courneuve and Arcadi Île-de-France. Funded by NPN-STEPPING OUT in the framework of NEUSTART KULTUR. An initiative of the Federal Government Commissioner for Culture and the Media.
Click here for current stage events
Click here for an overview of all events