Comic reading
Vina Yun & Patu
Homestories – Korean Diaspora in Vienna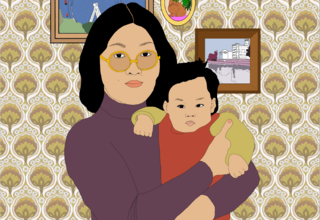 Vienna during the 1970s. Long before hi-tech made in Korea, the kimchi hype and "Gangnam Style", the first Korean nurses arrived in Austria as "migrant workers". They were called to alleviate the severe nursing crisis that already spread throughout many European countries then. The semi-documentary, auto-fictitious comic Homestories retraces the steps of this rarely acknowledged migration history. It also tells a story about the migrants' children growing up back then, those of the so-called second generation: Day-to-day life in the cobwebbed alpine republic amid Bruno Kreisky and teenie magazines, acid house and the Waldheim affair, everyday racism, and Whitney Houston. Vina Yun and Patu bring their experiences of (post)migration, generational rapport, and family relations in the diaspora onto the stage in the multimedia comic book lecture Homestories.
Vina Yun is a freelance journalist and author in Vienna. Patu is an illustrator and comic book artist, she lives and works in Berlin.
Duration: 40 min.
Performance: Patu, Vina Yun; Story, Text: Vina Yun; Drawings: @decolonial killjoy, Tine Fetz, Moshtari Hilal, Patu.
VOLUME UP is funded by the Kunststiftung NRW.
Click here for current stage events
Click here for an overview of all events
Festival · 03. – 12.06.2022
VOLUME UP