Magda Korsinsky
STRICKEN – the installation
Dates
04.06.2022 – 06.06.2022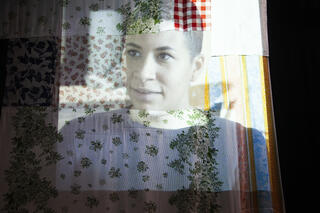 How do Afro-German women deal with the pasts of their white grandmothers? STRICKEN shows video portraits of six grandchildren talking about National Socialism and deep-seated resentment, about love and their favourite dishes from granny's kitchen, about family heritage and the racism of the present. Magda Korsinsky questioned six Black women about their families: What values have been passed on? Which ones have been adopted, called into question, changed, or rejected? This resulted in open and truthful portraits – projected onto textile cloth panels the women found in their garndmother's cabinets: Bed linen, tablecloths, and towels they have sometimes known from childhood.

Their family history is as divisive as it is a point of connection for the women portrayed, because they, unlike their white grandparents, would have been among those persecuted during National Socialism. How, then, to deal with the ancestors' guilt? Inspiration for STRICKEN was taken from Jennifer Teege's book Amon. Mein Großvater hätte mich erschossen (Amon. My grandfather would have shot me). Teege, at the age of 38, learned that she was the grandchild of concentration camp commander Amon Göth.

Magda Korsinsky is a visual artist, choreographer, and lecturer with a Czech-Eritrean background. She studied fine arts at the UdK Berlin, the ENSBA Paris and the AVU Prague and has presented her works in numerous exhibitions. She concluded her choreography studies at the Inter-University Centre for Dance (HZT) Berlin in 2012. Her choreographic works have been invited to Tanztage at the Sophiensæle and shown at the Maxim Gorki Theater Berlin and at the Uferstudios, as well as elsewhere.
Duration: approx. 60 Min. in the Loop
Entry possible at any time
Sa 04.06. + Su 05.06. 16:00 – 20:00
Mo 06.06. 16:00 – 20:00
Director, Installation, Interview: Magda Korsinsky; video, sound: Stefan Korsinsky; Sewing assistance: Kunji Baerwald, Sofia Vannini; Interview partners: Binta, Denise, Matti, Miriam, Shaheen, Stephanie.
In cooperation with Ballhaus Naunynstraße and Savvy Contemporary e.V. With the kind permission of DENGLER and DENGLER Gallery for Fine Arts, Stuttgart and with the support of the Senate Department for Culture and Europe, Berlin, and the Rudolf Augstein Foundation.
VOLUME UP is funded by the Kunststiftung NRW.
Click here for current stage events
Click here for an overview of all events
Festival · 03. – 12.06.2022
VOLUME UP