Jee-Ae Lim
Mountain, Tree, Cloud and Tiger ver.0
Dates
11.06.2022 – 12.06.2022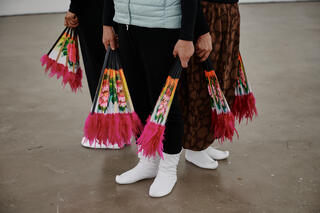 In exchange with Korean migrants of the 60s and 70s, Jee-Ae Lim examines how dance is passed on across different time periods, and across space. She therefore concentrates on the dancers' bodies and identities who convey a personal dance vocabulary, beyond biographical information. Lim closely collaborated with Korean dance group Kaya Ensemble for the piece, strongly emphasising diaspora and tradition. Together with two Korean amateur and professional dancers, Lim utilises traditional and contemporary dance languages to explore how those opposites are inscribed into our bodies throughout Mountain, Tree, Cloud and Tiger: Collectively, they fight for a universal body language of unity and diversity.
Jee-Ae Lim completed her master studies in Solo/Dance/Authorship at the Inter-University Centre for Dance (HZT) Berlin. Jahrbuch Tanz voted her "A New Hope" in 2014, while Gaeksuk Magazine voted her "Young Leading Artist 2015". In her work, she combines traditional Korean dance with contemporary elements. She examines the body as a movement archive. Additionally, she explores conventions and stereotypes that have grown out of the interaction between cultural tradition and established dance history.
Duration: 40 min.
Concept, choreography: Jee-Ae Lim; Creation, Dance: Kyong Soo Shin-Nolte, Ok-Hi Kim-Wehnes, Jee-Ae Lim; Sound: Kyan Bayani; Light: Younwha Kong; Dramaturgical advice: Thomas Schütt.
VOLUME UP is funded by the Kunststiftung NRW.
A production organized by Art Sonje Center Seoul, curated by Haeju Kim and supported by Goethe-Institut Korea. Producer: Jinyoung Shin (apparat/US).
Click here for current stage events
Click here for an overview of all events
Festival · 03. – 12.06.2022
VOLUME UP