World Premiere
Hip Tap Project
It's About Time
Tap dance is all about time. Keeping time, shaping time, taking steps in time. Now it's about time we tell its story. The title It's about time references, like an echo, the 1984 tour undertaken by tap dance artists Sarah Petronio and Jimmy Slyde. The piece is a tribute to Sarah Petronio, in which her choreographies are staged by her most trusted dancers from the US, Canada, Europe, right up to Japan, for the first time. Among them are Acia Gray, Travis Knights, Ayako Ukawa, Sharon Lavi, Daniel Luka, Carson Murphy, and Leela Petronio.
It's About Time entwines poetics, rhythm, and movement, and it is built around meaningful solos. The solos are connected by Sarah Petronio's history, unfolding through her various choreographies: A selection from the original stage productions from Jazz in Motion, Thelonious and It's About Time. Formative moments summed up in images – a rehearsal studio, a dressing room, a jazz club – bring the essence of the dance called tap dance onto the stage.
Sarah Petronio is known as an improvisational jazz tap artist – over the years, she created many choreographies that have been performed, at different times, by a diverse range of dancers, in a number of shows, on several continents. Taking strong inspiration from her dance partner Jimmy Slyde, the musical genius of Thelonious Monk and Ahmad Jamal's deep sensitivity, Sarah Petronio's work experiments with form, space, time, and energy, determining some rhythmic phrases, and changes the musical elements like the pieces of a puzzle – thus creating a harmonious interplay between music and movement.
Duration: 75 min.
Artistic Direction: Leela Petronio; Artistic Assistance: Daniel Luka; choreography, poetry: Sarah Petronio; Dance: Acia Gray, Ayako Ukawa, Carson Murphy, Daniel Luka, Leela Petronio, Sarah Petronio, Sharon Lavi, Travis Knights; Light Design: Alexandre Boghossian; Production: Hip Tap Project.
With excerpts from the choreography and poetry of the stage plays Jazz in Motion, Thelonius and It's about time by Leela Petronio, as well as the "Riff" choreography by Sarah Petronio and Jimmy Slyde.
Click here for current stage events
Click here for an overview of all events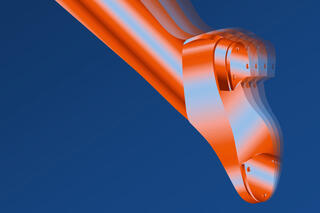 Festival · 25. – 29.05.2022
Tap Dance Days