Sorour Darabi
Savušun نوشووـــس
Dates
09.08.2021 – 10.08.2021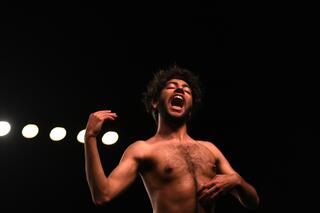 Savušun نوشووس is an ode to both vulnerability and affection. Like a folk tale, this solo by and with Sorour Darabi moves between comfort and uneasiness, tenderness and atrocity, toxic masculinity, and vulnerable identity. Sorour Darabi weaves a more intimate story into the examination of collective Shiite mourning ceremonies; and this underlying story takes the depiction of the complex and paradox emotions of those rituals into question. "Savušun" – literally "grieving Siavash's passing" – references the tale of Siavash, a legendary Persian prince and the main character of the Shahnameh ("The Book of Kings"), written around the year 1000. The permeability between the fictional character and the historical figure, the martyr and the assassin, finds its echo here in the obliteration of identities and modes of expression. The performance wanders between real and symbolic loss, employing wit, sensitivity, and hybrid gestures, touching on depictions of suffering and consternation. Thus, the sorrow, as well as the sadness and fear that weighs heavily on minorised bodies are all addressed and playfully transformed. The uneasiness stays.
Sorour Darabi is a self-taught Iranian artist living in Paris. Sorour Darabi was a member of the underground organisation ICCD back in Iran, and their proprietary festival Untimely already presented several of their works. During their studies at the CCN de Montpellier, Sorour Darabi shaped the Subject to Change solo, a performance that takes on the topic of temporal and spatial questioning. At the 2016 Festival Montpellier Danse, Sorour Darabi created the solo Farci.e that deals with terms like language, gender and sexual identity, and sexuality. Their new work Mowgli celebrated its premiere in 2021.
Duration: 50 min.
Concept, choreography, performance: Sorour Darabi; Light: Yannick Fouassier, Jean-Marc Segalen; Dramaturgy: Paula L. Boulba; Outside Eyes: Celine Cartillier, Matthieu Bouvier; Sounddesign: Benjamin Ducroq; Administration: Charlotte Giteau; Touring: Sandrine Barrasso.
Coproduced by Montpellier Danse 2018, creation residency at the Agora, cité internationale de la danse, supported by Fondation BNP Paribas, CND Centre national de la danse, La Villette artists'residency, La Maison CDCN Uzès Gard Occitanie, La Fée Nadou-résidence d'artistes, Zürcher Theater Spektakel, ICI – Centre chorégraphique national Montpellier / Occitanie, Sophiensaele, Fonds Transfabrik – Fonds franco-allemand pour le spectacle vivant, SPEDIDAM und Ballet du Nord (Studio). This guest performance is part of VOLUME UP series, supported by Kunststiftung NRW. 
Click here for current stage events
Click here for an overview of all events
Festival · 06. – 22.08.2021
VOLUME UP
Unheard stories, disregarded knowledge