Augmented Reality Parcours through Düsseldorf
FEELING MYSELF IN PUBLIC SPACE
Dates
03.06.2021 – 13.06.2021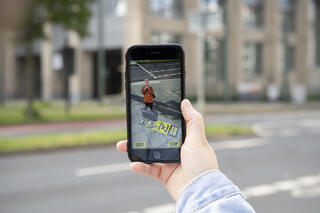 Düsseldorfers will be given an opportunity to reconnect with their city on an augmented reality parkour from 03. – 13.06. FFT and tanzhaus nrw have set up twelve stations between Düsseldorf main station and tanzhaus NRW in Erkrather Straße. With the aid of the free app "[k] 2 go", developed by Hamburg production house Kampnagel, passers-by may scan ground based QR codes to experience digital performances. Dancers, performers and urban space merge in an augmented reality on the mobile display – Worringer Platz will be a dancefloor, KAP1 – site of the future FFT production venue – will become an open-air stage.
Please find the Google Maps overview here. Starting point will be the new KAP1 entrance located at Konrad-Adenauer-Platz 1, opposite the main station.
Download the [k] to go – Augmented Reality App via the Google Play Store or via the App Store.
Tips and Notes: Please download the app at home beforehand. Choose the "CLAIMING COMMON SPACES – FEELING MYSELF IN PUBLIC SPACE" parkour under the PROGRAMM header. Click on DOWNLOAD to load all content. You will save data volume this way. We recommend that your mobile device is fully charged when entering the parkour; carry an optional power bank. Extra hint: Switch on sound.
The Parkour Stations
#0 GREETING WITH AMELIE DEUFLHARD (Kampnagel, Hamburg)
#1 NUTROPOWER "READY TO RECHARGE?" (tanzhaus nrw, Düsseldorf)
Bahar Gökten and Yeliz Pazar of Kollektiv nutrospektif will meet with you for a digital energy upload.
Performance: Bahar Gökten, Yeliz Pazar (nutrospektif)
#2 VIA NEGATIVA "ONE TWO FREE" (FFT, Düsseldorf)
Slovenian art group Via Negativa makes a case for the following: "One cannot understand the concept of freedom. To experience freedom, there must be at least two people. Freedom is an endless game from master to servant to servant to servant to servant to master to master to master to servant."
Concept/Performance: Anita Wach; Performance: Kristina Aleksova; Director: Bojan Jablanovec; Camera: Rok Kajzer Nagode; Music: Eduardo Raon. vntheatre.com
#3 VIA NEGATIVA "THE KISS" (FFT, Düsseldorf)
And another visual hypothesis: A kiss can be an act of healing or an act of killing. As long as the space between the lips remains neutral, we are free from consequences. But if a kiss happens, a whole civilization could perish…
Concept: Kristina Aleksova; Performance: Kristina Aleksova, Loup Abramovici; Director: Bojan Jablanovec; Camera: Rok Kajzer Nagode; Music: Eduardo Raon. vntheatre.com
#4 SIRYEL CHTIOUI, WILLIAM HAYBOR-VENOUS, KWAME OSEI "MELLOW STREET" (PACT ZOLLVEREIN, ESSEN)
Drifting through the streets, through the city with its unburdened, pulsating energy, being loud, boundless, together – within "Mellow Street", the dancers* tell a tale of that which we currently miss.
#5 NEWFRONTEARS "WAITING IS A PLACE #1" (HAU – Hebbel am Ufer, Berlin)
#6 NEWFRONTEARS "WAITING IS A PLACE #2" (HAU – Hebbel am Ufer, Berlin)
The avatars in this contribution by artist duo NewFrontEars pose digitally poetic questions: "Everywhere is nowhere, and everything once was now. Do you remember when that happened? Find the echo and repeat that movement."
#7 AUBREY BEARDSLEY "UNTITLED DANCE SUITE" (HELLERAU – Europäisches Zentrum der Künste, Dresden)
The Untitled Dance Suite is a danced commentary on the current situation that has consciously been kept this abstract so it could be suitable for different locations and different content.
Choreography: Joseph Hernandez; Music: Barret Anspach.
#8 GO PLASTIC COMPANY "ASPHALTWELTEN PART 2" (HELLERAU – Europäisches Zentrum der Künste, Dresden)
plastic Company gave 13 artists* from five countries the same task: "Push the wall away with all your might. Yellow and blue."
Performance: Joseph Hernandez, Cindy Hammer, Rika Yotsumoto, Beatrix Simkó, Réka Oberfrank (Budapest), Silvia Svitekova, Karol Regeci, Lukas Zahy (Bratislava), Cat Jiménez, Hygin Delimat (Vienna), Tereza Lenerova, Tomas Janykpa + Tinka Avramova (Prague); Concept & Director: Cindy Hammer / Susan Schubert. https://asphaltwelten.goplasticcompany.de
#9 GO PLASTIC COMPANY "LIVING MONUMENTS" (HELLERAU – EUROPÄISCHES ZENTRUM DER KÜNSTE, DRESDEN)
A choreographed contribution to remembrance culture that deals with the problem of embodiment.
Performance: Cindy Hammer, Joseph Hernandez, Rika Yotsumoto; Music: First Rain by Duval Timothy.
#10 BABY OF CONTROL "INSTITUTE FOR FRICTION DIMINISHING" (Künstlerhaus Mousonturm, Frankfurt am Main)
Baby of Control is a delegate task force of the "Long Thin Planet and its Moons" (the international and interstellar designation). They utilise endemic bureaucratic resources to examine the phantasmagorical issue of "earthmusic" and to reproduce it in a controlled environment. Earthmusic expands the horizon in a very enduring manner, and all can be humans…
#11 HOUSE OF BROWNIES "EMBRACING ONE'S SELF" (Kampnagel, Hamburg / QUEER B-CADEMY)
Pascal, Marcelino, Ricardo and David venture out on a journey of self-discovery in which they defy the cis-normative society they had been told to perceive as a matter of course throughout their upbringing and education. Thus, they strengthen their inner voices they were taught to suppress and repudiate until now, and in turn, they discover and celebrate the beauty of their individuality.
The parkour is a programme item within CLAIMING COMMON SPACES, an event initiated by the Alliance of International Production Houses, annually curated by one of its seven allied member houses. Back in 2019, FFT and tanzhaus nrw were the programme series hosts; Hamburg production house Kampnagel takes over direction this year. Audiences will be able to attend the parkour in Düsseldorf as well as in Dresden, Essen, Frankfurt on the Main, and Hamburg. Please find the complete CLAIMING COMMON SPACES III programming and schedule HERE.
Claiming Common Spaces III is an event of the Alliance of International Production Houses, funded by die Beauftragte der Bundesregierung für Kultur und Medien.
Click here for current stage events
Click here for an overview of all events
Festival · 03. – 13.06.2021
CLAIMING COMMON SPACES III
WELCOME TO THE PLEASUREZONE!