Online simulation
Choy Ka Fai
Blue Sky Academy #331C
Dates
30.01.2021 – 31.01.2021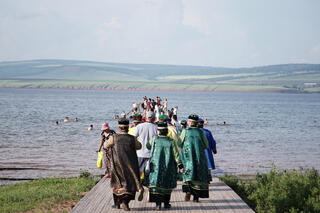 "Blue Sky Academy #331C" is at the same time an artistic experiment as it is an academy with the purpose to revive Siberian shamanism as a spiritual practice. In a live-hosted hybrid of dance, lecture, video screening and tele-presence performance, "Blue Sky Academy #331C" opens a discursive space that provide new visibility to the old, supposedly irrational belief system and the alternative views of the world inherent in shamanism. The starting point lies with the constantly marginalised Buryatian people who nomadically dwell mainly in Siberia and other parts of Russia, in Mongolia, Manchuria and Central Asia, crossing countries and borders.
Media artist Choy Ka Fai – a former tanzhaus nrw Factory Artist – creates the online simulation of a performance as well as a supernatural dance experience in a visual-documentary and rendered world with "Blue Sky Academy #331C". The dialogue about the body and mental states in these strange times will be broadcast via a live stream from Choy Ka Fai's interactive website "Digital Blue Sky". The website offers extensive photographic and virtual research material on the Blue Sky Academy and will remain available and expand as a digital archive after the performance.
Choy Ka Fai is a Berlin-based artist from Singapore. His multi-genre art practice is situated at the crossroads of dance, media art, and performance. His continued examination within the metaphysics of the human body, technological experimentation, anthropological discoveries and dance experiences that fluctuate from the futuristic into the paranormal or bizarre are at the core of his explorations.
Duration: ca. 85 min.  (30 min. Live lecture; 55 min. Virtual parcours) / contains English
Please note: After booking you'll receive the link to the event shortly before the performance starts.
Concept, direction, visual media: Choy Ka Fai; Performance, Mocap, Choreography: Yurika Yamamoto, Susanne Grau; 3D visual design, programming: Huang Wei-Hsuan, Huang Wie, Brandon Tay; 3D architecture: Adrian Bolog; Web design: Currency Design; Cinematography dance video: Miriam Kolesnyk; Editing dance video: Diego Gómez Tibocha; Sound design/production: Tseng Yun-Fang; Sound engineering: Yan Sheng Wen; Technical support live streaming: ARTFACTORY; Research, translation (Buryat to Russian/English): Mitya Glavanakov; Translation (English to German): Jana Winterhalter; Writer Editor: Ng Hui Hsian; Technical consultation: MIREVI, Moving Digits; Project Management: Mara Nedelcu.
A project by Choy Ka Fai, supported by NATIONALE PERFORMANCE NETZ – STEPPING OUT, funded by Beauftragten der Bundesregierung für Kultur und Medien as part of the Initiative NEUSTART KULTUR. Hilfsprogramm Tanz. A sub-project as part of Cosmic Wander, developed with the support of Taipei Performing Arts Center, Singapore Art Museum und tanzhaus nrw as part of  Bündnis internationaler Produktionshäuser, funded by Beauftragte der Bundesregierung für Kultur und Medien. The research was supported by the National Arts Councils Singapore, Kunststiftung NRW Germany and VERTIGO Project as part of the STARTS program of the European Commission, based on technological elements from moving digits.
Click here for current stage events
Click here for an overview of all events
Festival · 09. – 31.01.2021
TEMPS D'IMAGES