CANCELLED: Özlem Alkış
Soundtracking the Stage
Dates
26.11.2020 – 28.11.2020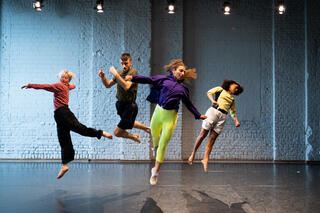 Tense hands and feet tenaciously grip into the stage floor. Five bodies work it with all their weight, with skin, shoe soles, the surface of clothes. It scratches, whines, grinds, scrapes, bellows, and blares. The impact of the swelling sounds made by the movements, driving them on, fills the room like yet another massive body. Like tonal hallucinations, concrete spaces and sceneries form in the audience's ears: idyllic landscapes, heavy hydraulic machinery, collective exhaustion rituals, from nightlife and recreational activities.
The COVID-19 pandemic outbreak radically changed the work process for "Soundtracking the Stage" by choreographer Özlem Alkış and her collaborators. Sound touches. Even through the distance. It shapes vibration, transfers energy, finds resonance. The interest in body-sound and sound-body opens a field of experimentation in which people experience communion, during times in which strict choreographies of distribution, separation, isolation regulate each and every single one of our movements. The dancers* divide the room, dividing it among themselves, become amplification and echo rooms for one another. The search for moments of exchange, resistance, support, independence or solidarity, formulating the question on how to create new utopian spaces and to invent or find a possible future.
Cologne-based choreographer Özlem Alkış and tanzhaus nrw have been linked in collaboration for many years. She has shown her pieces "Dust Devil" (2015) and "Reverbs" (2017) at tanzhaus nrw. The research for "Soundtracking the Stage" began in summer 2019 with her interest in the stage as a resonant space, further developed with Foley artist Dieter Ebben and can now be experienced at tanzhaus nrw, following shortly after its premiere in Cologne.
Duration: 60 Min.
Choreography, Artistic Direction: Özlem Alkış; In cooperation with the performers: Jennifer Döring, Brigitte Huezo, Camilla Schielin, Christoph Speit, Constanza Javiera Ruiz Campusano; Sound Artist, Sound Dramaturgy: Marc Behrens; Foley Artist, Sound Dramaturgy: Dieter Hebben; Dramaturgical Collaboration: Constanze Schellow; Outside Eye: Anna-Carolin Weber; Press and Public Relations: Ellen Brombach; Technical Director: Dietrich Schuckließ.
A production of Özlem Alkış, co-produced by tanzhaus nrw. Funded by Ministerium für Kultur und Wissenschaft des Landes Nordrhein-Westfalen, Landesbüro Freie darstellende Künste e.V., Kulturamt der Stadt Köln and Kunststiftung NRW. The residency took place with the support of CocoonDance Company and is funded by NRW-Mittelzentrums Bonn through Ministerium für Kultur und Wissenschaft des Landes Nordrhein-Westfalen and further supported by "Residenzprogramm Quartier am Hafen 2020", TanzFaktur Köln and theaterimballsaal.
Click here for current stage events
Click here for an overview of all events