World premiere
Faso Danse Théâtre / Serge Aimé Coulibaly & Magic Malik
Wakatt
Dates
17.09.2020 – 19.09.2020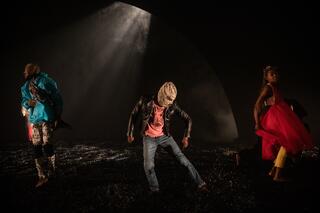 with live music

Where does our fear of the other, the alien, originate from? Is it the result of a global spread of nationalism and the faculty of its proponents to deceive, to seduce and to arouse peoples' excitement, to rally them to their cause? Or does a violence lurk, hidden deep within, in the human body, waiting to arise and to unfurl? Serge Aimé Coulibaly treats these fear-ridden times, which we inhabit, in "Wakatt". This choreographic reflection starts in a movement language, with a motivation rooted in an inner experience of violence and the urgency to talk with the body. Processed in Mail, Tunisia, Belgium, Germany, and Burkina Faso, this new creation of the Brussels-based artist is also marked by the experiences the international cast encountered in dealing with the COVID-19 pandemic. As a celebration of life with all of its sorrow and joys, "Wakatt" condenses the different experiences gained with the pandemic and sets a necessity in motion that is shared by all group members*: To emerge from this period, strengthened.
Serge Aimé Coulibaly already guested at tanzhaus nrw numerous times, most recently with his production "Kalakuta Republic" in 2017.
Duration: 70 Min.
| Accompanying programme |   |
| --- | --- |
| Sat 19.09. | discussion afterwards |
|   |   |
A friendly take-over from the programme of Ruhrtriennale 2020.
Concept, choreography: Serge Aimé Coulibaly; Composition, music director: Magic Malik; Creation, performance: Marion Alzieu, Bibata Maiga, Jean-Robert Koudogbo Kiki, Antonia Naouele, Adonis Nebie, Jolie Ngemi, Sayouba Sigué, Snake, Ahmed Soura, Marco Labellarte; Music: Magic Malik Orchestra: Magic Malik (flute), Maxime Zampieri (drums), Jean-Luc Lehr (bass); Dramaturgy: Sara Vanderieck; Choreography assistance: Sayouba Sigué; Stage design, costume: Catherine Cosme; Lighting design: Giacinto Caponio; Stage manager: Matisse De Groote; Sound technique: Ralph M'Fah-Traoré; Lighting technique: Herman Coulibaly; Director assistance: Hanna El Fakir; Production management: Sandra Diris; Technical director: Joris De Bolle; Artistic consultant: Thomas Prédour; Company manager Faso Danse Théâtre: Lies Martens; Communication manager Faso Danse Théâtre: Sandra Diris. Thanks to Ankata (Bobo Dioulasso, Burkina Faso) and Dreamcity Tunis. 
A production from Faso Danse Théâtre, co-produced by Münchner Kammerspiele, Théâtre National Wallonie-Bruxelles (BE), La Biennale de la Danse Lyon (FR), Ruhrtriennale 2020 (DE), deSingel Antwerpen (BE) and Kampnagel Hamburg (DE). Funded by Ministerium für Kultur und Wissenschaft des Landes NRW, supported by The Flemish Community, Fédération Wallonie-Bruxelles, Wallonie-Bruxelles International and The Belgium TaxShelter Touring Frans Brood Productions. Supported by the NATIONAL PERFORMANCE NETWORK co-production support for dance, sponsored by the Federal Government Commissioner for Culture and Media of Germany.
Click here for current stage events
Click here for an overview of all events