Now & Next
featuring works from Cie Entretemps and Paul Davis Newgate
Dates
18.02.2020 – 19.02.2020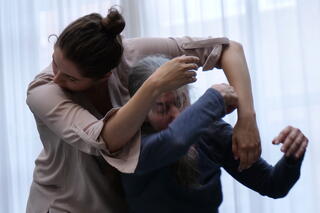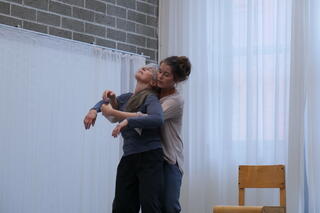 The platform for up-and-coming artists from North Rhine-Westphalia shows début works and projects by young regional dance creatives.
In "Entre-temps au grenier", Bénédicte Billiet and Sophia Otto encounter each as mother and daughter for the first time – as two dancers, two women inhabiting different phases of their lives. Bénédicte Billiet danced at Tanztheater Wuppertal and elsewhere, while Sophia Otto studied at the Centre for Contemporary Dance Cologne and at Folkwang University of the Arts in Essen. They rummage around as if in an attic, discovering what makes them who they are, where their movements originated and where they themselves are at home. They launch into a quest for the traces of previous generations of women and mothers to the accompaniment of Tom Waits, Ryuichi Sakamoto, Joseph Haydn, and others. Thus, they explore how movements, bequeathed and inherited, channel their ways from body to body, from bodies that change, from bodies in different eras.
Urban dancer Paul Davis Newgate presents an excerpt from the work process of his first stage production, titled "The Mask". From Maskgate to Masquerade, he constructs a narrative about internal and external masks, employing changing masks and an explosive, energetic and dynamic dance style. These masks can be worn or felt, or they lend expression to feelings. "The Mask" is, therefore, physical and simultaneously abstract, highly emotional and almost unreal.
Duration: 90 min.
Accompanying programme

| | |
| --- | --- |
| Wed 19.02. | talk afterwards |
"Entre-temps au grenier" Choreography, dance: Bénédicte Billiet, Sophia Otto; Outside Eye/assistence: Valentina Paz Morales Valdes; Lighting: Mathieu Otto; Text: Sophia Otto, Bénédicte Billiet. "The Mask" Concept, performance: Paul Davis Newgate.
Click here for current stage events
Click here for an overview of all events