Young Tanzhaus
· German Premiere / Series Melancholia & Muscles
Alida Dors / BackBone & Silbersee
Speak Up!
Dates
25.02.2018 – 26.02.2018
Dutch choreographer Alida Dors, known for her impressive pieces fusing hip hop and contemporary dance, goes on a quest for one individual's ethics and responsibilities in times of populism and fanaticism. For this, she took inspiration from the ancient Egyptian "Feather of Maat" allegory: The heart's weight, put against the feather of Maat, decides whether a human might enjoy eternal life or die a second death. In collaboration with four hip hop dancers and two opera singers, Alida Dors creates a new ritual in "Speak Up!", wherein the responsibility for one's own actions shifts into focus. Situated between experimental musical theatre, urban and contemporary dance, six young people issue a mutual call to responsibility: Are you proud of who you are? Imagine your heart on the scales of a higher power: Would you still act like you do now? Alida Dors and her company BackBone have been working in close connection with tanzhaus nrw since their performance of "Living apart and together" in 2013. Following "Harvest", "Built for it" and "True Colors", "Speak Up!" is the fifth performance to be staged at tanzhaus nrw. Alida Dors develops her own signature style marked by the bilingual approach of urban and contemporary dance as well as from encounters with other genres.
Duration: 60 min.
Accompanying Programme

| | |
| --- | --- |
| Sun 25.02. | 17:00 physical introduction |
|   | discussion afterwards |
|   |   |
Choreography, Concept: Alida Dors; Dance: Pom Arnold, Bilal Bachir, Donna Chittick, Liza Panjoel; Voice: Carla Nahadi Babelegoto; Maciej Straburzynski; Supervision Music, Composition: Romain Bischoff; Music: Jacob ter Veldhuis and DJ Lovesupreme; Dance Dramaturgy: Peggy Olislaegers; Dramaturgy: Maarten van Hinte; Stage Design: Ascon de Nijs; Light: Jeffrey Steenbergen. www.backboneconnects.nl
A production by BackBone in cooperation with Silbersee and the Theater Rotterdam, coproduced by  tanzhaus nrw in the framework of Take-off: Junger Tanz, funded by the Kulturamt der Landeshauptstadt Düsseldorf and the Ministerium für Kultur und Wissenschaft des Landes NRW.
Click here for current stage events
Click here for an overview of all events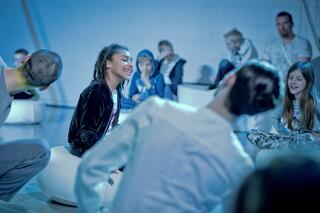 Festival · 23.02. – 09.03.2018
You're invited if that's ok?