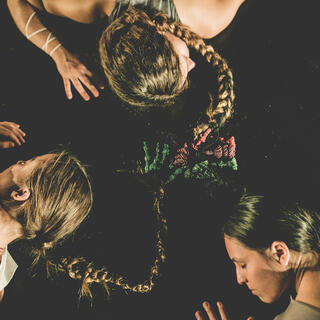 .Dencuentro
Constanza Javiera Ruiz, Greta Salgado Kudrass, Amanda Romero Canepa arbeiten seit dem Jahr 2018 als Kollektiv zusammen unter dem Namen .Dencuentro. Im Rahmen des Festivals tanz nrw 2019 nahmen sie Teil an der Residenz Sprungbrett Tanz Recherche, in der sie ihre Arbeit mit einer Recherche über Tinku, ein Kampfritual und Karnevalstanz aus der Hochlandskultur der Anden in Südamerika, begonnen. Teil ihrer Recherche war auch eine Feldforschung in Bolivien. Das entstandene Projekt SINP`A wird im Oktober 2020 als Teil des Double Bill für erste eigene Produktionen im tanzhaus nrw zur Premiere kommen.
Ale Jara
Ale Jara, originally from Paraguay, lives and works in Cologne. She joined the National Ballet of Paraguay in 1999, going on to tour internationally with it as a versatile dancer for nine years. She graduated from Ohio State University with a Master of Fine Arts in Dance in 2011, completing her education as a certified Gaga trainer in Israel one year later. She is a recipient of, among other grants, a UNESCO and a Fulbright scholarship and is not only highly regarded as an outstanding expert within her field, but also as a very mindful human being full of positive energy: "I am interested in seeing people's passion to move while they move, more than wonderful shapes. Gaga helps me to enrich myself with more delicate information and gave me the tools to guide the people inside my class to listen to their bodies." Ale has been teaching Gaga at tanzhaus nrw since 2017, both for professional dancers as well as for participants without prior dance experience.
Carlo Melis
Carlo Melis is among the most longstanding teachers at tanzhaus nrw. He has been teaching modern and jazz dance at the house since 1989, integrating influences from contemporary dance. "Contemporary dance's freedom challenges standardised techniques in modern and jazz dance, turning the gaze inward." Accordingly, Carlos' classes focus less on learning a technique but rather on rediscovering a strategy we have been carrying within from our earliest childhood movements: Being curious, experiencing oneself and one's body, feeling one's own emotions. The participants work on movements, but also always on their origins. "We only start dancing when emotions drive movements." Carlo entered vocational training to become a construction engineer for the sake of his parents, yet he has been fascinated by the arts early on in his youth, playing in physical theatre and in Living Theatre. Following a workshop with Bob Curtis, a pioneer in Afro contemporary dance, Carlo discovered dance: "I had never experienced such intensity. From that moment on, I knew that I wanted to dance." So, he started studying classical ballet, modern and jazz dance in his homeland of Sardinia at age 26. Later, he also graduated with a degree in theatre and dance education from several Italian universities. During a dance scholarship at the Folkwang University of the Arts, Carlo received tuition by great Wuppertal choreographer Pina Bausch, an experience that influenced his subsequent dance works. He contributed to TV productions, worked with numerous companies and taught at Arnhem University as well as elsewhere.
Carmen Mar
Carmen began ballet and Flamenco lessons at the tender age of four in a small dancing school in Northern Spain. Later on, she discovered modern dance. Following her studies of education sciences and psychology, she decided to dedicate herself to her real passion and went to the Northern School of Contemporary Dance in Leeds to study contemporary dance. "For a number of years, I was active as a choreographer in England and Spain, was a member of several companies and attended dance castings." So, she eventually made her way to Düsseldorf when she took over the role of Carmen (!) at the Deutsche Oper am Rhein. She contributed as a performer at Cirque du Soleil, at the Ballett am Rhein as well as at Aalto Theater Essen and in pieces by Cologne choreographer Angie Hiesl. She additionally conducted the professional trainings at MichaelDouglas Kollektiv in Cologne and has a practice as a certified yoga teacher. Apart from this, she works on her own artistic projects in different constellations, for example with the all-female Cologne nutrospektif collective. Carmen has been influenced by release technique, powerful Graham technique as well as by choreographers like Merce Cunningham and José Limon.
Chrystel Guillebeaud
Chrystel Guillebaud studied ballet with Daniel Franck and Gilbert Meyer at the Opéra de Paris, also studying modern jazz, for example, with Raza Hammadi, and also modern dance as well as Tai chi. Additionally, she studied singing and violin as well as visual arts at the Musée des Arts Déco de Paris. From 1988 until 1994, she worked with Philippe Découfflé, Maryse Delente and Maurice Béjart, going on to become an ensemble member of Pina Bausch's Wuppertal Dance Theatre. She has been active as a freelance artist since 2000, founding company DOUBLE C and art association Wup d.c. in Wuppertal together with Chun-Hsien Wu. She received the Von der Heydt Support Grant as a choreographer in 2006. She directed the dance training at the Städtische Bühne Münster and teaches courses at Düsseldorf Schauspielhaus. While there, she also participated in a number of productions in a choreography capacity. She works as a teacher at Bochum's "Theater Total", and she is also an actress, dancer and choreographer at Heiner Bontrup's Theater Anderwelten.
Claire Lefèvre
Claire Lefèvre is a French choreographer, performer and writer usually based in Vienna, Austria. At the moment, she is one of the resident choreographers in K3 (Kampnagel) in Hamburg where she researches the concept of Radical Softness as a performance practice. A self-titled language nerd, Claire also teaches writing workshops, and is a contributing writer for Springback Magazine.
Claudia Iglesias Ungo
Claudia Iglesias Ungo grew up in Havana, where she also concluded her dance studies at the National Art School. She danced for the Danza Contemporanea de Cuba in productions by Juan Kruz Diaz de Garaio Esnaola, George Céspedes, Jan Lienkens, Rafael Bonachela, Mats Ek and Ana Laguna, as well as in productions by others. She moved to Germany in 2012, turning in a stint with Samir Akika's Unusual Symptoms at Theater Bremen until 2015. Engagements with Susanne Linke, David Hernandez, Alexis Fernandes and with her brother, freelance choreographer and DJ César Iglesias Ungo, followed.
Emma Valtonen
Emma Valtonen studied dance and dance education in Finland and Portugal. After many months of performing her graduation work in Finland, she now works as a teacher and choreographer in Finland, Italy and China, among other places. She loves travelling and has trained internationally in various dance styles - always curious and connected with the desire to explore new, unusual paths and movement languages. Various dance styles from urban dance, modern and jazz dance as well as different bodywork techniques shape Emma's style. Her way of teaching is very approachable and open, and her participants are enthusiastic about her "creative, focused, loving and humorous way of teaching". Emma herself says of her classes: "I want my students to be challenged without pressure or competition.
Erika Winkler
Erika Winkler received her dance education at the Folkwang University of the Arts in Essen and, following her graduation, worked at a number of theatres and in freelance companies, with an engagement of several years with Dutch Company RAZ. She developed projects for Ruhr.2010 and is a regular choreographer for Team Plöger/Winkler/Becker at the FFT Düsseldorf. She teaches workshops internationally and has been an esteemed and popular teacher at tanzhaus nrw since 1998. Here, as well as at PACT Zollverein and for companies like Ultima Vez, Neuer Tanz or Random Dance, she offers regular professional training, too.
Hayato Yamaguchi
Hayato Yamaguchi startete seine Tanzkarriere im Tokyo Disney Resort in Japan. Erste Engagements führten ihn zur Austrian Ballet Company in Tokio und auf eine Europatour mit der Dance Company Nomdes. In Japan arbeitete Hayato mit berühmten Choreographen wie Motoko Hirayama und Kazuyuki Futami. In Deutschland folgten Engagements bei diversen renommierten Bühnen, u.a. dem Theater Bonn, dem Theater Dortmund und der Deutschen Oper am Rhein. Darüber hinaus wirkte er bei Produktionen wie dem TANZ theater INTERNATIONAL im Jahr 2015 mit und arbeitete beim Dance Theatre Luxemburg zusammen mit Jean-Guillaume Weis, sowie den Theatre Rites in London und in der Tanzmoto dance company in Essen. Seit 2015 ist er potenzieller Tänzer beim Cirque du Soleil. Neben seiner Karriere als Tänzer und Tanzdozent, arbeitet Hayato auch als Street Performer. Seit 2010 ist er offizieller Straßenkünstler der Stadt Tokio. Er nahm an zahlreichen Festivals in Europa teil und gewann beim NAGOYA DAIDOGEI Festival im Jahr 2018 den 2. Platz.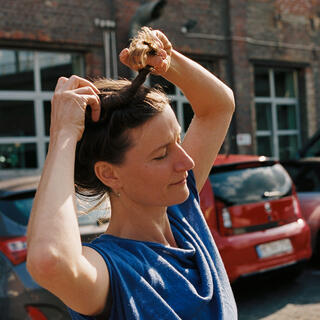 Irina Hortin
Irina Hortin first studied linguistics and literature in Germany, France and Argentina before going on to study contemporary dance in Cologne and Munich. She performs internationally, regularly choreographs for Schalktheater in Zurich, heads youth dance theatre projects and teaches contemporary dance, contact improvisation as well as tango at international festivals. The encounter with Frey Faust, an important figure within French contemporary dance and editor of movement dictionary Axis Syllabus, was of special importance for Irina's vocational biography, and Irina, as a certified Axis Syllabus (AS) teacher, references the dictionary. The interdisciplinary AS research network surveys the functions of the human body in motion. In the process, information from biomechanics, anatomy, physics and medicine come into use to analyse our motion apparatus and to have it start to move in a functional and caring way. The focus always lies on a respectful contact with oneself and others – and, of course, on the fun in dancing!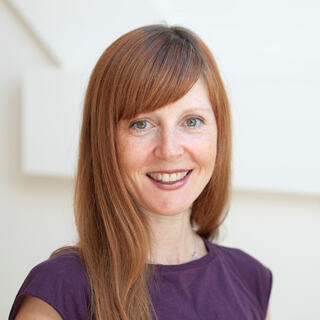 Jennifer C. Mann
Jennifer studied dance and received a BFA at the the University of the Arts in Philadelphia. Since then she has worked as a professional dancer, choreographer, modern/contemporary dance, improvisation and yoga teacher. Jennifer teaches in studios, festivals and companies throughout Europe. In Berlin, she offers dancer training regularly at Marameo, and yoga in Yoga Sky and yellow yoga. She is certified to lead the Group Motion Workshop, an improvisational evening focused on the universal language of movement and collective healing. Jennifer studied yoga in the USA with Iyengar yoga teacher James Bryan and in Germany at the Yoga Akademie Berlin with Yogacharya Ananda Leone. She is now a certified member of the BDY and the European Yoga Union (EYU), and organises international retreats, workshops and yoga teacher trainings.
Julio César Iglesias Ungo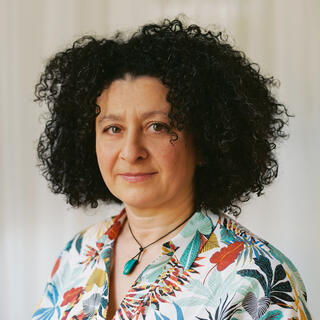 Laura Virgillito
Dance has been occupying a large part of Laura Virgillitto's life since she was three years old. Following a five-year stay in New York where she studied at the renowned Martha Graham Dance School and at other places while also learning to utilise the GYROTONIC EXPANSION SYSTEM® for her dancer's career, the native Italian came to Germany in 1997. She worked as a dancer with several different choreographers and companies. Today, Laura is mainly active as a freelance instructor with different companies and institutions both nationally and internationally, among them the Folkwang Tanzstudio, Stadttheater Bielefeld, PACT Zollverein, VA Wölfl's NEUER TANZ, and also at tanzhaus nrw for about 15 years now. She is a GYROKINESIS® master trainer and heads her own studio in Cologne. She teaches the GYROKINESIS® movement system which puts an emphasis on somatic aspects, addressing both people with and without prior dance experience, as well as a contemporary training for professional dance creatives at tanzhaus nrw. 
Misael López
Misael López has been a part of tanzhaus nrw from the start. Together with Paul Hänel and Chris Parker, he actively shaped the "Werkstatt", tanzhaus nrw's precursor, also, but not only, teaching at the European Dance Development Centre (EDCC), a cooperation between ArtEZ University of Arts in Arnhem and tanzhaus nrw, a cooperation that is aimed at innovative education for dancers. Misael studied dance and theatre at the University of Chile as well as at the Teatro Municipal in Buenos Aires. He worked as a performer in Buenos Aires and also in several European ensembles. Additionally, he was active as a choreographer at Schauspielhaus Düsseldorf. With his company Largo Camino Organización Sueño, he creates numerous choreographies, working as a freelance dancer to this day, as a choreographer and instructor. All the while, he is always interested in unusual co-operations and loves exchanging with different people and other dance styles.
Mu-Yi Kuo
Mu-Yi Kuo (Taiwan/D) trained in contemporary, classical and Chinese dance in Taiwan and Germany. Since 1995 she has been working as a dancer, choreographer and teacher. As a dancer, she worked with numerous choreographers including Stephanie Thiersch, Anna Konjetzky, Pina Bausch, Rodolpho Leoni, Henrietta Horn, Yaron Shamir, Mateja Bucar, Michele Anne de Mey and Thierry de Mey. As a creator, her debut creation "Cycle C" (2011) was nominated by the Aerowaves European Network as the most outstanding interdisciplinary production of Germany. In 2012, she choreographed the solo theater work "Dance Play" for playwright Ana Mendes, winning the Prize of the Jury Sophiensaele at the 100° Berlin Festival. In 2013 she created an intermedia concert performance "Prisma" together with musicians Ensemble Ruhr during a residency at Pact Zollverein.
As a teacher, she has taught in companies and institutions such as Pact Zollverein, Tanzhaus NRW Düsseldorf, Interessengemeinschaft Profitraining Köln, Tanzfabrik Berlin, Mouvoir Dance Company, Akram Khan Company, Cie Toula, Folkwang Tanzstudio, Ben J. Ripe Company and Neuer Tanz Company. Since 2014, Mu-Yi Kuo has been a faculty member of the Folkwang University of the Arts where she teaches dance, movement composition, improvisation and coaches student creations. In addition, Mu-Yi Kuo is a certified Feldenkrais teacher.
Paolo Fossa
Paolo Fossa is choreographer, dancer and teacher. He has been working throughout Europe for the last 20 years, applying his knowledge of the body in movement to contemporary dance and improvisation. He teaches in many theatres, dance companies, at Folkwang University, Academy of Theatre and Dance Amsterdam University of Arts, Tanzhaus NRW in Düsseldorf, Fontys in Tilburg and DansArt Akademie in Bielefeld. In cooperation with these institutions he also realises choreographies that stand alongside his numerous independent productions. Some of his latest works: Körpererzählung (2019), Stray Dogs (2018).Due to his pronounced communicative and organisational skills, he has been running a dance education project in Shenzhen/China since 2017 together with the Giessen Dance Company, where he has been working as a ballet master for contemporary dance since 2015. The aim is to develop a curriculum for contemporary and improvisation techniques at the Shenzhen Arts School. Parallel to his work on stage, he works with private and city institutions and leads several social projects with young people. Together with the choreographer Gerda König, creator of the first project of the M.A.D.E. ( Mixed-Abled Dance Education ), he is working on the creation of a new method of studying contemporary dance, which will enable students and dancers with and without disabilities to pursue a joint education.
Sabine Seume
Sabine Seume concluded her dance studies at the Folkwang University of the Arts in Essen under the direction of Pina Bausch. Following a number of engagements in Germany and Switzerland, she went to Japan where she worked in Carlotta Ikeda's butoh company Ariadone for more than six years. There, she started her intensive examination of eastern aesthetics and of the artistic expressions of Asian cultures. Back in Düsseldorf, she founded her own company, developing her special style, infused with an amalgamation of eastern and western elements and a love of genres beyond dance. Additionally, Sabine has been dedicated to producing plays for a young audience for many years. She has won numerous awards for her artistic work.