Janne Gregor
ICH KANN'S NICHT LASSEN (I JUST CAN'T STOP)
Dates
22.11.2023 – 23.11.2023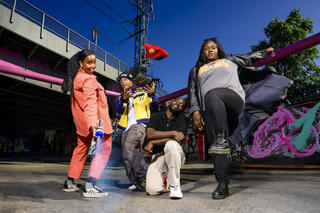 Who owns the stage? Four krump dancers pose this question and take the audience with them into the spotlight. Krump is a dance style that emerged on the streets of Los Angeles as insurgency against social inequality and discrimination. To this day, krump remains a safe haven and substitute family for many dancers. The krump communion creates community; this is about showing oneself, and about supporting each other. This self-empowering attitude to life, typical for krumping, will be transferred to the theatre space by choreographer Janne Gregor. Collaborating with four krump dancers and one musician, her production will break up the usual hierarchy between audience and performers. A vivid, participatory choreography will be created in an exchange with the audience, live, and on-site. Dance will become a means of communication; each individual performance will be a unique experience that illuminates why you just cannot stop dancing..
Duration: 50 min.
Age recommendation: 6+
Without speech. Use of loud music and possibly strobe. 
Accompanying programme

Wed 22.11. 10:30

Thu 23.11. 14:30

Thu 23.11. 12:00

Moving introduction: Lisa Haucke

Moving introduction: Paolo Fossa

Workshop: Tanzen-Teilen-Teilnehmen
Artistic direction, choreography: Janne Gregor; by and with: Queen Buckhype, Iman Gele, Kofie DaVibe, Baby Wave; music: Moritz Thorbecke, BravoDomo; stage, costume: Johanna Schraut; lighting: Luigi Kovacs; dramaturgical support: Thomas Schaupp; assistance choreography and production: Lena Klink; dance mediation: Amelie Mallmann, Lucia Matzke; outside Eye: Livia Patrizi; audio editing: Matthias Millhoff; production: Sina Kießling, Thomas Dörschel
A production by TANZKOMPLIZEN in cooperation with tanzhaus nrw, funded by the Bundesministerium für Familien, Senioren, Frauen und Jugend as part of the funding programme "Das Zukunftspaket für Bewegung, Kultur und Gesundheit" and take-off: Junger Tanz.
The  Zukunftspaket für Bewegung, Kultur und Gesundheit is a programme of the Bundesministeriums für Familie, Senioren, Frauen und Jugend (BMFSFJ). It is implemented by the Gesellschaft für soziale Unternehmensberatung (gsub) and the SPI Foundation. The  Deutschen Kinder- und Jugendstiftung (DKJS) is responsible for the programme part "Kinder- und Jugendbeteiligung im Zukunftspaket".
With the support of take-off: Junger Tanz, funded by the Kulturamt der Landeshauptstadt Düsseldorf and the Ministerium für Kultur und Wissenschaft des Landes NRW.
Click here for current stage events
Click here for an overview of all events
Festival · 17. – 26.11.2023
take-off festival "upside down"