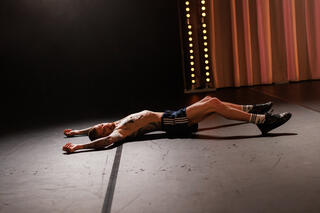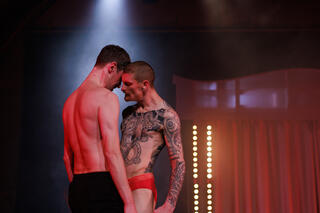 After being an inspiration to others for a whole lifetime, Dan Daw, the award-winning choreographer and performer from Great Britain, finally seizes the opportunity to inspire himself. He appropriates the beautiful chaos that characterises everything he is. At the same time, Dan lets go of what he once was and makes room for who he wants to be. Dan Daw and his accomplice Christopher Owen find themselves in an intimate, playful evening: Dan Daw reclaims power while he is being dominated, according to his own rules. Nominated for the National Dance Awards 2021 as well as for the Achievement in Dance Award of the UK Theatre Awards, The Dan Daw Show, under Mark Maughan's direction, provides insight into the glistening and diaphoretic turmoil of living with shame while simultaneously abounding with pride. An impressive show about care, intimacy, and resilience as well as about the attempt to let go and reconquer oneself.
Dan Daw is the artistic director and CEO of Dan Daw Creative Projects, a company led by disabled persons working collaboratively, and the hub of a growing network of additional companies and artists. They develop and tour productions that blur the distinction between theatre and dance. Dan Daw's work explores what it means for a queer and disabled body to unequivocally occupy non-disabled spaces. Dan Daw began his work as a performer with the Australian Restless Dance Theatre in 2002. He has been working with artists such as Claire Cunningham, Factory Artist at tanzhaus nrw from 2017 until 2019, since. Most recently, Dan Daw served as the Associate Curator of the international Tanzmesse NRW in Düsseldorf, with which he collaborates from 2021 until 2024. Work on The Dan Daw Show began in cooperation with a larger creative team at the end of 2019. The work premiered at Dance City in Newcastle in September 2021 and has been touring globally since then.
"Certainly, Daw's show is unlike anything else you are likely to see"
★★★★, The Guardian
 
"Unapologetic, vulnerable, brilliant" ★★★★, The Stage
 
In English with English and German surtitles.
Duration: 85 min.
Accessibility
Access Meeting before the show
The access meeting before the show is free of charge, will be offered alongside every performance, and is open to all who are interested. The meeting will be held by production team members and takes the needs of the individual audience members into account. The access meeting will be hosted in English. Please click here for more information.
Relaxed Performance
Every The Dan Daw Show is a relaxed performance. The audience is encouraged to move, leave, and return as needed.
Quiet Room
Studio 7 (FRI) / Studio 2 (SAT) will be available from 7 pm to 10.30 pm as quiet rooms on the performance dates. Each room may also be used to take a break during the performances. Following the performances, each room may be used until 10.30 pm.
Notice regarding potential trigger moments
Representation of kink experiences / Asphyxiation / Humiliation / Dominant behaviour / Explicit sexual depictions and language / Description of feelings of alienation / Loud noises / Blinking lights / Fog
Relaxed Performance
Jede Vorstellung von The Dan Daw Show ist eine Relaxed Performance. Die Zuschauer*innen sind eingeladen, sich zu bewegen, zu gehen und zurückzukehren, wie immer sie es brauchen.
Ruheraum
Studio 7 (Fr) / Studio 2 (Sa) stehen an den Aufführungsterminen von 19:00 bis 22:30 als Ruheraum zur Verfügung. Der Raum kann auch während der Aufführung genutzt werden, um eine Pause einzulegen. Anschließend an die Aufführung kann der Raum bis 22:30 genutzt werden.
Hinweise zu möglichen inhaltlichen Triggern
Darstellung von Kink-Erfahrungen / Erstickung / Demütigung / dominantes Verhalten / explizit sexuelle Darstellungen und Sprache / Beschreibungen von Fremdheitsgefühlen / laute Geräusche / blinkende Lichter / Nebel
 Artistic Direction: Dan Daw; Direction: Mark Maughan; Featuring: Christopher Owen, Dan Daw; Assistant Direction: Thyrza Abrahams; Movement Direction: Sarah Blanc; Dramaturgy: Brian Lobel; Props & Furnishings: Emma Bailey; Lighting Design: Nao Nagai; Composition & Sound: Guy Connelly; Stage Management: Froud; Production Management: Liz Counsel; Accessibility Counselling : Zed Lightheart; Counselling Producer: Phil Hargreaves; gratitude goes to Invincible Rubber, Katie Vine, Tsubi Du.
A Dan Daw Creative Projects production in cooperation with Shoreditch Town Hall, Candoco Dance Company, I'm Here, Where Are You? Festival. Play development supported by Jerwood Choreographic Research Project II. Supported by the Arts Council England, Sadler's Wells, Arts House Melbourne, DanceHub Birmingham, The Lowry, Déda, Cambridge Junction, DanceXchange, Dance4. Supported by Europe Beyond Access. Co-financed by the European Union Creative Europe Programme.
Supported by Bündnis Internationaler Produktionshäuser, supported by Beauftragte der Bundesregierung für Kultur und Medien.
Click here for current stage events
Click here for an overview of all events