Installation / Uraufführung
Brigitte Huezo
Post Digital Bodies
Dates
01.09.2023 – 03.09.2023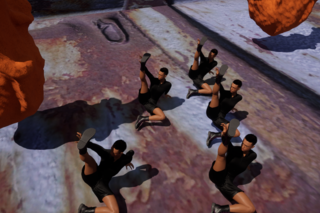 The Post Digital Bodies interactive installation can be utilised by oneself or in community. The various rooms and contexts and the different schedules invite the visitors to become part of the installation with their own movements, thereby influencing the installation's effect and visibility. Post Digital Bodies explores movement between motion tracking and choreography, enabling consideration of the human body at the intersection of dance and technology. How does the human body expand in space? Where does a body begin and end? And how does it accomplish its presence? The technology employed within the installation offers new, exciting, and unusual framing conditions to envision the communication and impact of the human body. Brigitte Huezo examines the idea of digital identities as the extension of one's own persona, as an escape route and a well of connection to that which lies beyond our physical radius.
Duration: 25 min.
Foyer
Fri 01.09. + Sat 02.09. from 22:00
Participation is possible without registration, free admission

Studio 6
Sat 02.09. 16:00 – 20:00
Sun 03.09. 14:00 – 18:00
Experience for groups up to max. 6 persons as well as individuals, reservation desired, free admission.
Duration: 25 min.
Reservation not possible anymore, but there might be open slots available at the location.
Concept and post-digital choreography: Brigitte Huezo; New Media Artist and Design Programming: Anna Balthasar, Michelle Bocker.
Supported by the Alliance of International Production Houses, funded by the Federal Government Commissioner for Culture and the Media, supported by the Ministry of Culture and Science of the State of North Rhine-Westphalia.
Click here for current stage events
Click here for an overview of all events
Festival · 01. – 03.09.2023
25 years of tanzhaus nrw