Festival
Exhibition
Installations from Charlotte Triebus, Alfredo Zinola, Dominik Geis, Lena Biresch, Alexander Whitley
Dates
06.01.2023 – 14.01.2023
Exhibition
Whether before, after, or in-between stage programmes – please also visit the installations set up in our foyer for the duration of the TEMPS D'IMAGES festival. Admission is free!
Me, Myself & My Avatars (or remapping the homunculus)
Virtual reality experience by PRESS [ST]ART
This virtual reality experience deals with the importance of avatars in virtual reality and aims to scrutinise the opportunities and limitations that lie in their application. This is most central about the malleability of the homunculus, which describes a model capable of precisely locating the movements and emotions experienced by the body within the brain's neocortex. 

The homunculus' flexibility does not only allow us to identify with the body of an avatar in the first place, but the homunculus is also able to adapt to bodies that diverge strongly from the human form. Therefore, it is actually possible to learn to handle a third arm or a tail quite quickly. Those contexts may be experienced in the guise of three playable non-human avatars in the virtual reality experience: one with added appendages, one consisting of many bodies at once, and one that controls all of its environment. 
Team PRESS [ST]ART: 
Concept, Experience Design & Programming: Lena Biresch; 3D Art: Tore Nobiling; Puppetry & Programming: Nico Parisius
body vice
 360° video installation & virtual reality by Dominik Geis 
How do human beings perceive their bodies in virtual space, how do they perceive them to be true? Coming from Paul Schilder's proposed body schematic theory, Dominic Geis develops a virtual space (body) that the spectators dive into. He takes Schilder's The Image and Appearance of the Human Body literally as he dissects microscopic and documentary video recordings of anatomic body detail and rearranges them as a multiplied pattern in a video collage, laying it onto the virtual space and on the skin of the virtual figures moving within it. Underscored by atmospheric rhythmic beats, new displays of the body come up that would have remained concealed to the human field of perception without technical aid.
body vice contrasts the virtual space with a real one. Two video projection screens dramaturgically prepare for the picture material in the VR work, through the pattern of the video collage, thereby creating a sort of backdrop for the VR goggle worn by the spectators. This shapes an interplay between real and virtual images that emphasises and marks the presence of the body viewing the VR work in analogous space.
Dominik Geis designs virtual body images in body vice, thus dismembering the matter-of-factness of our everyday body schematics, which enables to experience the constructed character of this in the first place. The question for the presence or absence of bodies in (virtual) space comes up, and with it the question for the social projection of one's own perception.
Duration: 6 min, 2-channel video installation, 360° video, VR glasses
proxy
Interactive performance in augmented space with avatar ensemble by Charlotte Triebus, in collaboration with Brigitta Muntendorf
proxy (2022) is a digital live performance in which three avatars in augmented space become visible on proprietary tablets in physical space. The avatars react individually to each spectator – to facial expression, to approach, to distance and to the device's height, autonomously adapting the piece so it may find its location in the space around the spectator. 
proxy expresses ethical doubt, because the avatars resemble choreographer Charlotte Triebus, yet they are being danced by New Human Body Society dancers. The topics of identity and cultural appropriation, of the handling of ethical aspects of digital bodies, of surveillance, appropriation, intimacy and hiding are part of the experience and can be felt in this digital dance piece. 
Duration: 8 min, Augmented Reality for iPad/ iPhone.
proxy will be freely available for download in the Appstore from December 2022.
Concept, choreography: Charlotte Triebus ; concept, sound composition: Brigitta Muntendorf, dance: Aaron Samuel Davis, Esther Siddiquie, Yurika Sophie Yamamoto; project management: Charlotte Triebus; scientific consulting, technical coordination: Christian Geiger; technical direction: Lisa Glosowitz; financial management: Ivana Družetic-Vogel; AR technology development: Kester Evers, Lisa Glosowitz; user interface: Lisa Glosowitz; development support: Mirjam Claassen; avatar, texture design: Timo Stampa; costumes: Charlotte Triebus, Julie Farré; texture and shading creation: Niclas Rosso; motion capturing dance: Ben Fischer; micro-mimic capturing: Ben Fischer, Peter Nelke; post production: Nanette Ratz, Peter Nelke; post production: micro-gesture Rainer Schiller
Supported by the Fonds Darstellende Künste and the Bundesverband bildender Künstler with funds from the Federal Government Commissioner for Culture and the Media as part of NEUSTART KULTUR.
Chaotic Body II: Liminal Phase
 Augmented reality by Alexander Whitley
Chaotic Body II: Liminal Phase is a motion-capture based dance film for the screen and augmented reality, inspired by chaos theory, the dynamic processes described therein, and the connected geometrical patterns in nature. This short piece for two dancers focusses on human breath to dissolve the boundaries between the forms of their bodies and their surroundings in which they find themselves.
This second part of a film triptych was created in collaboration with digital artists Uncharted Limbo Collective and features a specially commissioned film music by renowned American composer Missy Mazzoli. Chaotic Body II: Liminal Phase represents an advancement of the Digital Body project that came up during the COVID-19 pandemic. It is part of an ongoing research into the ways in which dance may exist in digital form, and it explores the seemingly endless possibilities of visualising human movement by means of motion capture and game engine technology.
 
Superproximity
Virtual reality by Alfredo Zinola Productions
In their stage performances, the team around Alfredo Zinola is most interested in the game of nearness and perception between the bodies of the artists and the audience. Now, for the first time, they explore the opportunities granted by virtual reality, through the Superproximity VR film. Superproximity has been inspired by PRIMO, an underwater dance performance for a young audience. The bodies of the artists moving through the underwater world become transformed by the fantastic capabilities of animation, and a new perspective on the forms and scales of bodies ensues.
The troupe's core team consists of Alfredo Zinola as choreographer and Micaela Kühn Jara as producer, the two collaborating with a rotating cast of artists. Hannah Stragholz and Simon Steinhorst have been working on joint film and art projects since 2010. They set up production company Studio Corallo in 2018, specialising in animation, illustration, and visual art. Studio Corallo specialises in idiosyncratic projects that connect painting and film in vivid colours.
By: Alfredo Zinola, Hannah Stragholz, Simon Steinhorst; Animation: Hannah Stragholz, Simon Steinhorst; Production: Micaela Kühn Jara; Music: Antonio d. Luca; VR Development: Khora. A production of Alfredo Zinola Productions with tanzhaus nrw Düsseldorf. Supported by the Ministry of Culture and Science of the State of North Rhine-Westphalia, NRW Landesbüro Freie Darstellende Künste, Kulturreferat der Landeshauptstadt München, NATIONALE PERFORMANCE NETZ - STEPPING OUT, funded by the Federal Government Commissioner for Culture and the Media as part of the initiative NEUSTART KULTUR Hilfsprogramm Tanz.
Click here for current stage events
Click here for an overview of all events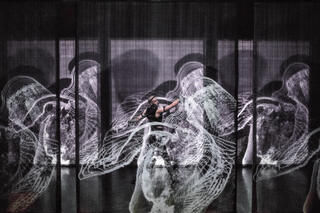 Festival · 06. – 15.01.2023
TEMPS D'IMAGES
Festival for dance and technology