Ultima Vez / Seppe Baeyens
BIRDS
Dates
08.10.2022 – 09.10.2022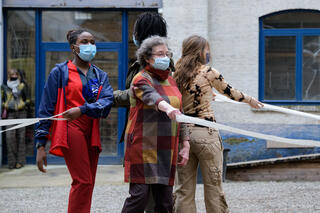 Dancer and choreographer Seppe Baeyens forms temporary communities in his stagings. He leaves the theatre walls behind in his new work BIRDS and enters public space, together with a group of performers and musicians. Once there, he interrupts the usual course of events – sometimes invisibly and hardly describable, sometimes obviously so. So, unexpected compositions arise from playful interactions between spectators, participants, and passers-by, wherein they all seem to contribute, influencing the outcome. BIRDS is a generous social choreography searching for connection and fantasy. Seppe Baeyens already guested at tanzhaus nrw for a 2018 preparatory workshop preceding BIRDS. We are pleased to present to you the finalised work now.
Since 2011, Seppe Baeyens has been associated with the activities of company Ultima Vez. He mixes professional as well as non-professional dancers and actors*/actresses* in his productions. In his last work INVITED, presented at tanzhaus nrw in 2018, the audience experienced how the divide between performers and audience members transformed into a warm, familiar group feeling. Baeyens searches for new artistic work methods that stretch over long periods of time, based on co-authorship with the participants. His projects are not so much about individual expression, symmetrically executed movement or a harmonious choreography but rather about a direct and immediate connection between the dancers during the performance.
Duration: 60 min.
Concept, direction and choreography: Seppe Baeyens; co-creation: Martha Balthazar, Yassin Mrabtifi; creation and performance: Aiko Niang, Annette Baussart, Anthony Quintard, Aude Uytterhoeven, Chisom Lois Onyebueke Chinaedu, David Jarama, Emile Claus, Evarista Azaïs Jarama, Inès Bafdili, Isabelle Azaïs, Rosa Boateng, Gaspard Herblot, Jago Pauwels, Kyria Tsara, Martha Balthazar, Seppe Baeyens, Teddy Guilbaud; Yacine Sangara, Yassin Mrabtifi; music: Stef Heeren; Composition Arabic percussion: Saif Al-Qaissy; Live performance: Gaspard Herblot, Kyria Tsara, Saif Al-Qaissy, Stef Heeren; Dramaturgy: Kristin Rogghe; Internship dramaturgy: Lena Vercauteren; Assistant movement: Germán Jauregui; internship artistic assistance: Bernadette Schnabel; set design: Björk Llaguno Alvarez, Fatima El Ouahabi, Jolien Gillijns, Loïse Vargas Y Jimenez, supervised by Eva Raffaella Menga & Bram Kerkhofs (LUCA School of Arts); costume design: Lieve Meeussen; sound: Schröder; technical: Thomas Glorieux; production and tour management: Ultima Vez.
Co-produced by: KVS Brussels, STUK-House for Dance, Image & Sound (Leuven), co-financed by the Creative Europe Programme of the European Union as part of DANCE ON, PASS ON, DREAM ON, tanzhaus nrw Düsseldorf, Festival de Marseille; residencies: TUK Leuven, KVS Brussels, CAMPO Ghent, Berliner Festspiele. With the support of tax relief measures of the Belgian Government and Casa Kafka Pictures Tax Shelter, authorised by Belfius. Ultima Vez is supported by the Flemish Authorities and the Flemish Community Commission of the Brussels Capital Region. Special thanks to Decoratelier, Circularium, Maison des Cultures et de la Cohésion Sociale, MolenWest, Espace Catastrophe. BIRDS is supported by the Alliance of International Production Houses, funded by the Federal Government Commissioner for Culture and the Media.
Click here for current stage events
Click here for an overview of all events