German premiere
Travis Knights
Ephemeral Artifacts
Small Stage
22 €, reduced from 8,50 € on
Ephemeral Artifacts is an ANANDAM repertoire piece that exists in several variations with different artistic line-ups. This Tap Dance Days 2022 version shows tap artist Travis Knights, exploring the connection between jazz and tap as executed by Black dancers. This choreography asks, as did Travis Knights' tap teacher Ethel Bruneau: "On whose shoulders do you stand?" She faces the transience of the dance and examines the processes that imbue her with palpability: Time, exercise, and attention. At the core, Travis Knights' solo investigates the dancing body as a carrier of embodied knowledge, as a site of transmission over the course of time.
Travis Knights' career began in the year 2000, when he was cast as a solo dancer in the film biography about Bill "Bojangles" Robinson, alongside Gregory Hines and Savion Glover. He worked as a tap consultant for Cirque du Soleil and was one of the extraordinary dancers at the 2010 Winter Olympics opening ceremony in Vancouver. Travis Knights lives in Brampton, Ontario, and works internationally. He received the Jacqueline-Lemieux-Prize for exceptional contributions to dance in Canada in 2020. He conducts interviews with inspiring tap dance artists for his podcast Tap Love Tour.
Duration: 75 Min.
Direction, Co-Choreography: Brandy Leary; Performance, composition and co-choreography: Travis Knights; Light Design: Siobhán Sleath; Set Design: Nithya Garg; Video Design: Robert Kingsbury; Producer: ANANDAM.
Click here for current stage events
Click here for an overview of all events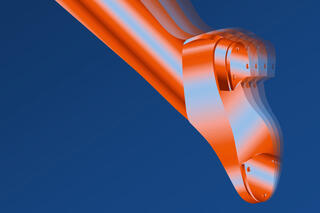 Festival · 25. – 29.05.2022
Tap Dance Days