Young Tanzhaus
· Kleine Monster Series
Colette Sadler
Strange Garden
Dates
25.01.2022 – 25.01.2022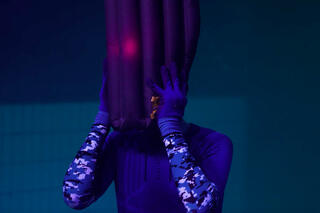 Slowly, a landscape awakes to life. A constantly changing garden emerges. It is inhabited by strange creatures that move, play around, and get in contact with one another. Those creatures look like things we know from everyday life. Yet they all carry special powers. Not all is as it normally seems, here in the strange garden. If those creatures are not human like we are, who or what are they then? Animal, stone, or plant? Should we be afraid of them? Or would they rather yet become our best friends?
Strangeness, as well as the impossible and the monstrous, are themes that Berlin-based Scottish choreographer Colette Sadler also deals with when creating for adults. Colette Sadler was educated in classical dance at the Scottish Ballet, completed her studies at London's Laban Centre, and started developing her own works in 2002. Her performances have been presented in numerous dance and art contexts, among them at Kaaitheater in Brussels, South Bank Centre London, Nottingham Contemporary and at Impulstanz Vienna. Time and again, Colette Adler has guested at tanzhaus nrw – most recently during this year's TEMPS D'IMAGES festival.
Duration: 35 min.
Concept, choreography: Colette Sadler; Stage, costume design, lighting design: Philine Rinnert; Music, sound: Mikko Gaestel; Performance: Cian Mc Conn, Joséphine Auffray, Maciej Sado, Melissa Ferrari; Director: Ralf Arndt; Production, Distribution: Catherine Launay; Assistant choreography: Leah Marojevic. 
A production by Stammer productions Ltd., coproduced by Fonds Transfabrik - Deutsch-französischer Fonds für darstellende Künste; L'échangeur – CDCN Hauts-de-France; Offensive Tanz für junges Publikum Berlin, supported by TANZPAKT Stadt-Land-Bund with means from der Beauftragten der Bundesregierung für Kultur und Medien; Berliner Senat für Kultur und Europa. With financial support from NATIONALE PERFORMANCE NETZ - Fonds de soutien pour la coproduction - Danse -, funded by die Beauftragte der Bundesregierung für Kultur und Medien. Supported by Take-off: Junger Tanz. Take-off: Junger Tanz is funded by das Kulturamt der Landeshauptstadt Düsseldorf as well as das Ministerium für Kultur und Wissenschaft des Landes NRW.
Click here for current stage events
Click here for an overview of all events