Livestream
Panaibra Gabriel Canda - ONLINE
The man who did not see the whale pass by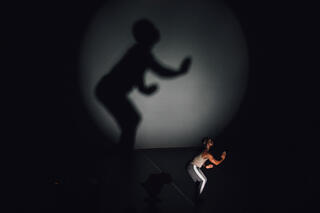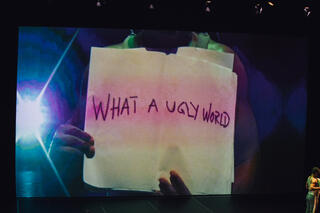 "This is the man from the sea who did not see the whale pass by, who did not hear the whale song, who did not feel the salt in the water – much less the wave's movement. This man lives here, in this world, in which heroes turn into villains, liberators into exploiters, ideologies into faith, war into business, governments into oppressors, borders into walls, securities into insecurities. Yes, here is the man who pollutes the Earth to live on the moon – without gravity nor oxygen. Welcome!" – Panaibra Gabriel Canda
Choreographer and dancer Panaibra Gabriel Canda seeks to find the connection between the self and the projection of a further I in the solo The man who did not see the whale pass by. This connection comes up in the social tension of expectations directed at ourselves on the one hand and external expectations on the other hand. But what could this further I be? Inspired by authors Janusz Korcza and Fernando Pessoa, Panaibra Gabriel Canda takes on lost utopias, the different perspectives of adults and children as well as their self-perception.
Panaibra Gabriel Canda, born in Maputo, Mozambique, ranks among the most important African choreographers, one who mirrors the postcolonial ruptures of his country like no other. He studied theatre, dance, and music in Mozambique and Portugal and has been developing his own artistic works since 1993; projects which he tours globally and for which he has won numerous awards . He founded the organisation CulturArte in Maputo in 1998, the first production studio for contemporary dance in Mozambique. As its artistic director and choreographer, he is very successfully dedicated to the support of the regional dance scene.
Duration: 50 min. / in Portuguese with German surtitles  
Concept, choreography, performance: Panaibra Gabriel Canda; Tech: Caldino José Alberto; Video: Dafne Narvaez; Int. distribution: Plan B Hamburg / Carmen Mehnert, Anne Schmidt.
A production by Panaibra Gabriel Canda/CulturArte. This guest performance is part of VOLUME UP series, supported by Kunststiftung NRW. 
Click here for current stage events
Click here for an overview of all events
Festival · 06. – 22.08.2021
VOLUME UP
Unheard stories, disregarded knowledge