World premiere
Choy Ka Fai
COSMIC WANDER DOUBLE BILL: THE THIRD PRINCE + YISHUN IS BURNING
Dates
26.08.2021 – 28.08.2021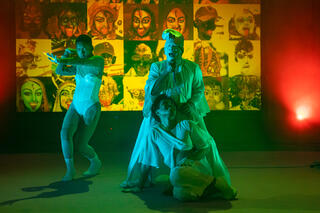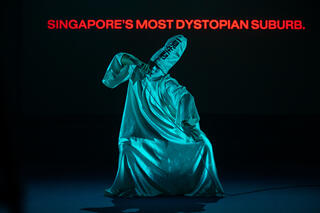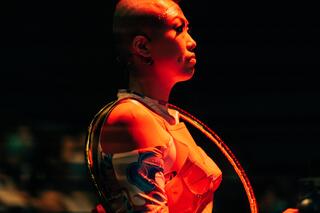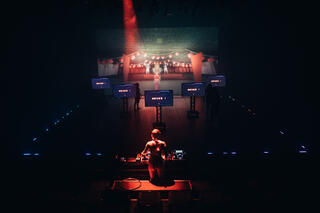 Ticket sale for the livestream HERE.
Are you ready to have your consciousness expanded? Choy Ka Fai explores Asia's shamanic dance cultures in the performance series COSMIC WANDER. Drawing inspiration from personal meetings with shamans in Singapore, Taiwan, Vietnam, Siberia, and Indonesia, the choreographer and media artist most recently presented the Singaporean version of his research as a live stream during the TEMPS D' IMAGES festival back in January of the year. Choy Ka Fai – former tanzhaus nrw Factory Artist – will return to Düsseldorf in August with COSMIC WANDER DOUBLE BILL, inviting the audience to a further development of the work on the Grand Stage. His encounters with consciousness-expanding conditions within shamanic practice can be experienced by the audience as a stage event that collects different digital technologies as well as physical levels.
Part 1
THE THIRD PRINCE
The first part of the double bill is a performance in physical space that combines gaming elements and film experience. Artist Betty Apple is this game's protagonist, and she will be hooked up directly into the tanzhaus nrw via live stream. She takes the audience for a transcendental trip to Taiwan in the year 2096. Inspired by the Taiwanese deity Nezha (THE THIRD PRINCE), the performance unfolds a kaleidoscope of shamanic practice that Choy Ka Fai investigated in Taiwan. In a composition made up of a documentary movie, motion capture ritualising and digital dance streaming, the viewers will encounter people with psychic capacities, ghost mediums, pole dancers and dancers performing for deities. In it, they become submerged into a fantastic simulation in which mundane and spiritual entertainment converge: The Taiwanese tradition of the idol and celebrity cult bore an exciting generation of ghost mediums with a penchant for democracy and personal freedom.
Part 2
YISHUN IS BURNING
On a quest for religious ecstasy, the audience dives into the notorious city of Yishun. Yishun is Singapore's dystopian suburbia, where hybrid spiritual acts are perpetrated – a suburbia of darkness, a kind of antithesis to the gleaming clean image Singapore cultivates – Singapore has traditionally been known as an authoritarian city state, where society is ruled by control and in which freedom of speech is non-essential. YISHUN IS BURNING is a multicultural voguing dance party that traverses the boundaries of gender, race, and religion. Inspired by the Singaporean phenomenon of ritual reverence of deities in their struggle against evil. The performance will be led by Norwegian-Thai dancer Sun Phitthaya Phaefuang a.k.a. Amazon Sun. Sun Phitthaya Phaefuang is a rising star of the Southeast Asian voguing scene whose dance will be accompanied by a live music performance coming from the Singaporean-Malaysian band NADA and Chinese drummer Cheryl Ong.
Duration: 90 incl. intermission / in English with English subtitles
Concept, Documentary and Direction: Choy Ka Fai; Dramaturgy: Tang Fu-Kuen; 3D Visual Design and Technology: Brandon Tay; Light Design, Installation und Technical Direction: Ray Tseng; Production Manager: Mara Nedelcu. THE THIRD PRINCE Spiritual Presence: Nezha; Gameplay and Narration: Choy Ka Fai; Sound Design and Online Performance: Betty Apple hosted by DAC Digital Art Center Taiwan; Costume design: Kayn Ken and Kuo Yu Ning; Motion Capture Dancer and Video Performance: Lin Su-Lien, Fangas Nayaw and Song Wei-Jie.YISHUN IS BURNING Spiritual Presence: Kali and Kuan Yin; Choreography and Performance: Sun Phitthaya Phaefuang; Sound Design and Performance: NADA (Rizman Putra & Safuan Johari) and Cheryl Ong.
COSMIC WANDER is developed with the support of tanzhaus nrw Düsseldorf, Taipei Performing Arts Center and Singapore Art Museum. Additional support for COSMIC WANDER was received from the Nationales Performance Netz (NPN) Coproduction Fund for Dance, which is funded by the Federal Government Commissioner for Culture and the Media, Germany. The research process is supported by the National Arts Council, Singapore; Kunststiftung NRW, Germany; and the VERTIGO project as part of the STARTS program of the European Commission, based on technological elements from Moving Digits. The presentation at tanzhaus nrw is supported by the National Arts Council Singapore.
Click here for current stage events
Click here for an overview of all events