World premiere of the cinematic adaptation
SEE!
Superversammlung/ superassemblage
Dates
19.03.2021 – 20.03.2021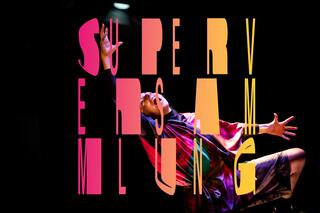 In their performance "Superversammlung/superassemblage", SEE! assemble unheard, marginalised, ridiculed and silenced voices. Every single choir that accumulates in every single performer* murmurs, whispers, sings, laughs, cries out and makes space for themselves. SEE! erects a performative sound monument for these congregations, dismantling it again, only to subsequently rebuild it – new, again and again, for each voice, for every sound, for every silencing. Unfamiliar seeming movements, never before heard voicescapes and exclamations collate with known words, gestures and poses. Boundaries blur. Picture puzzles intertwine. The ghosts of the past scrimmage with the voices from a visionary future. Sometimes some things explode, and then, it detonates, or smoke billows. And here they are already, the societies within every single one of us. As always in their works, the artist collective SEE! combines sound, text and movement into a self-sufficient, equal formal language, which can now be seen for the first time in a cinematic adaptation.
Cologne collective SEE! is made up of choreographers and artists SE Struck and Alexandra Knieps who, in cooperation with a set team of musicians*, dancers* and artists* from other genres, comprise a group to occupy spaces with performances and installations.
Duration: 30 min.
New: With the purchase of a solidarity ticket (I for 10 € or II for 17 €) you can now visit tanzhaus nrw. Of course, you can also book a ticket at the normal price (€ 3). Please note: After booking you'll receive the link to the event shortly before the performance starts.
Please notice: We recommend to wear headphones during the online-performance for the best possible experience.
Accompanying programme

| | |
| --- | --- |
| Fri 19.03.   | talk via Zoom afterwards |
Concept, choreography, director, stage: SEE! (SE Struck); Performance: Kristina Brons, Montserrat Gardó Castillo, Senem Gökçe Oǧultekin; Music: Ben Lauber, Sebastian Stuber; Lighting design: Ansgar Kluge, Bertil Mark; Vocalcoach: Rebekka Salomea Ziegler; Costume: Svenja Gassen; Text: Peter Licht; Dramaturgy: Annette Müller, Felizitas Stilleke; Assistant director: Elsa Weiland; Production: Susanne Berthold, Béla Bisom, Katrin Wiesemann.
The production SEE!, is funded by Kunststiftung NRW, Kulturamt der Stadt Köln and Ministerium für Kultur und Wissenschaft des Landes Nordrhein-Westfalen.
Cinematic adaptation
Directors: SE Struck, Alexandra Knieps; Camera: Stefan Ramirez Pérez, Benjamin Ramirez Pérez; Cut: Ian Purnell, Light: Ansgar Kluge, Bertil Mark, JoJo Tillmann.
A production from SEE! in co-production with tanzhaus nrw. With special thanks to Olaf Hirschberg, Ella Bender.
Click here for current stage events
Click here for an overview of all events