Factory Artist / German premiere
Claire Cunningham
Thank you very much
Dates
11.10.2019 – 13.10.2019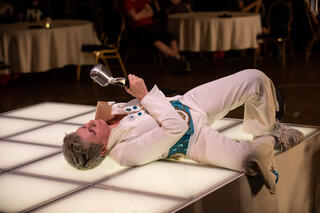 We pull back the red curtain and welcome visitors warmly to the glittering and mysterious world of professional "tribute artists". They pay tribute to showbiz legends by stepping into their shoes, evoking gestures, facial expressions, the voices and costumes of their idols, down to the tiniest details. To take a glimpse of this world, Scottish choreographer Claire Cunningham and her international ensemble of renowned artists with and without handicaps invite their audience to share a drink with them at tanzhaus nrw, because Claire Cunningham uses the tribute artists phenomenon as a blueprint for questions on identity, acceptance and the challenge to be oneself in her new work.
"Thank you very much" is an evening leaning on the ensemble's experiences. Filtered through the doubles' glasses, the ensemble in shiny costume deconstructs the myth of the ideal body. Claire Cunningham challenges social notions of normalcy, which she has also done in her recent pieces "The way you look (at me) tonight" and "Guide Gods", infusing them with her typical sense of humour and her authenticity.
Claire Cunningham, factory Artist at tanzhaus nrw and artist in residence at London's The Place, is a multi-genre artist and performer currently residing in Glasgow. Her work is marked by her physicalness and the inclusion of her crutches. By expanding on their original use, she creates a new movement technique, with the crutches as partners and agents. In this, she views her art, coming from her perspective as a handicapped artist, always doubling as activism.
Duration: 90 min. / in English / with German subtitles / doors open 30 min. before the perfomance
Please note: Sat 18:00 Open rehearsal "HOLD ON" by Céline Bellut
Concept: Claire Cunningham; Performance: Claire Cunningham, Dan Daw, Tanja Erhart, Vicky Malin; Dramaturgy: Luke Pell; Sound design: Matthias Herrmann; Costumes: Shanti Freed; Scenery: Bethany Wells; Lighting: Chris Copland; Assistant director: Dan Watson. www.clairecunningham.co.uk
A production of Manchester International Festival, National Theatre of Scotland and Perth Festival, in cooperation with tanzhaus nrw and Dance Umbrella. Co-produced by Manchester International Festival and National Theatre of Scotland. A special project as part of Bündnis internationaler Produktionshäuser, funded by die Beauftragte der Bundesregierung für Kultur und Medien.
Click here for current stage events
Click here for an overview of all events