Becker / Fiksdal / Langgård
Night Tripper
Shuttle from tanzhaus nrw
Dates
09.05.2018 – 11.05.2018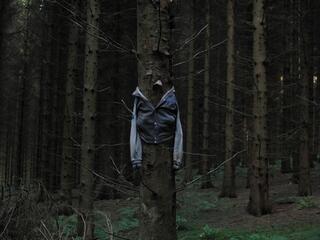 Norwegian choreographer Ingri Fiksdal takes us on a journey into the night, accompanied by six performers, strange instruments and an invisible choir. The piece starts with a twilight hike through the Düsseldorf forest and changes into a concert performance, into a ritual and a common event, as darkness slowly settles. Together with composer Ingvild Langgård and stage designer Signe Becker, Ingri Fiksdal explores nature as she verbalises an animist worldview: Perceiving nature as a region in which forces both healing and destructive dwell, as a locale of transcendence. Ancient mythology encounters everyday modern life and transforms into one supernatural, barely palpable fairy tale. "Night Tripper" provides an insight into the way in which a choreography of space, sound, time and bodies creates collective experience and emotional conditions. At the centre lies an invitation extended to the audience to admit themselves into a mutation with an unknown outcome.  Ingri Fiksdal plays on the registers of perception and affect in settings that often draw the audience in. The ritual and its capability for transformation remain a recurring theme in her work. This artistic research is also deepened by her as a stipendiary of the Oslo National Academy of the Arts. She has long been collaborating with composer Ingvild Langgård and stage designer Signe Becker.
"As the moon rose, it dawned on us we might be participating in a hair-raising pagan ritual. At the height of this tension, the band started to sing – and somewhere in the distance, Earth itself seemed to answer. An exceptional piece, simple, but with a powerful impact."Maddy Costa, "The Guardian", February 19, 2013
Duration: 150 Min. incl. drive
Please note: We recommend weatherproof clothing and shoes. Please contact us if you have questions regarding accessibility.
Concept: Becker / Fiksdal / Langgård; Choreography: Ingri Fiksdal; Music: Ingvild Langgård; Scenography: Signe Becker; Scenography Assistant: Øystein Wyller Odden; Dance: Pernille Holden, Marianne Skjeldal; Music: Jørn Tore Egseth, Ane Marthe Sørlien Holen, Ingvild Langgård, Guro Kvifte Nesheim; Distribution: Nicole Schuchardt. www.ingrifiksdal.com
A production by Becker / Fiksdal / Langgård, commissioned by Up To Nature. Coproduced by brut Wien, ANTI – Contemporary Art Festival Kuopio, Black Box Teater Oslo and Inbetween Time Bristol. Funded by the Norwegian Arts Council, Fond for lyd og bilde and Fund for performing artists. The guest performance in Düsseldorf is supported by Danse­ og teatersentrum (Performing Arts Hub Norway). The event takes place in the framework of the series Ceremony Now!, funded by the Kunststiftung NRW and in the framework of Claiming Common Spaces, an event hosted by the Bündnis internationaler Produktionshäuser, funded by the Beauftragte der Bundesregierung für Kultur und Medien.
Click here for current stage events
Click here for an overview of all events