Young Tanzhaus
· German Premiere / Series Melancholia & Muscles
Seppe Baeyens / Ultima Vez
INVITED
Dates
02.03.2018 – 03.03.2018
A group of very diverse people meet in one room. They all come for the performance, but where are the dancers? An older man gets up. And dances. A child follows. The neighbouring sitters are also in. Are they the actual dancers? Or is this governed by rules that have not been fully understood by everyone? Who is the actual audience, who are the performers? Seppe Bayens and his ensemble wonder how the audience may co-author a choreography during performance. Following an intense research phase with intergenerational groups, a temporary community of performers and audience forms. They are searching for an alternative means of living together and meet via contemporary dance. Who decides? Who adapts? How can different perspectives, experiences, languages and ideas coalesce into one coherent work of art? And how do you create conditions to allow everyone to gather enough courage to raise their voice? 
The cast of "INVITED" comprises a group of professional and non-professional performers and approaches an image of our society. Seppe Baeyens started out dancing at Belgian company fABULEUS as a youth before going on to work for acclaimed production venues such as the Kopergietery and to perform with companies such as Kabinet K., Ontroerend Goed and Miet Warlop. Since 2011, he has been closely associated with Ultima Vez, the company led by Belgian choreographer Wim Vandekeybus. To him, generation-crossing work is a necessary precondition needed to explore dance in its most vulnerable and essential form. 
Duration: 60 min.
Accompanying Programme

| | |
| --- | --- |
| Fri 02.03. | 9:00 – 14:30 film »Don't Look at the Finger« by Hetain Patel |
| Sat 03.03. | 14:00 – 16:00  film »Don't Look at the Finger« by Hetain Patel |
|   | 16:00 workshop presentation »Open the Gate« with adolescents |
|   | 17:00 – 20:00 film »Don't Look at the Finger« by Hetain Patel |
|   | discussion with Seppe Baeyens and Hetain Patel after the performance of »INVITED« |
|   |   |
Direction, Choreography: Seppe Baeyens; Development, Performance: Oihana Azpillaga, Seppe Baeyens, Ischa Beernaert, Leonie Van Begin, Rosa Boateng, Luke De Bolle, Frank Brichaud, Chisom Onyebueke Chinaedu, Roel Faes, Leon Gyselynck, Adnane Lamarti, Esther Motvanya, Trui De Mulder, Emile Van Puymbroeck, Stefaan Verlinden, Elisabeth Wolfs; Live-Music: Stef Heeren, Kwinten Mordijck, Karen Willems; Dramaturgy: Kristin Rogghe; Scenography, Light: Ief Spincemaille; Costumes: Lieve Meeussen; Rehearsal Assistant: German Jauregui; Artistic Consultation: Wim Vandekeybus; Technical Coordination: Tom de With. www.ultimavez.com
A production by Seppe Baeyens / Ultima Vez, coproduced by Koninklijke Vlaamse Schouwburg Brüssel. With support from Tax Shelter measure of the Belgium Federal Government and Casa Kafka Pictures Tax Shelter empowered by Belfius. The scenography is inspired by »ROPE – Possibilities of Binding«, commissioned by N.O.W. with support from extrapole, Fabbrica Europa, Indisciplinarte, Latitudes Contemporaines, Lókal, Mom/El Vivero, Trafó, wpZimmer. N.O.W. is cofunded by the Creative European Program of the European Union. Ultima Vez is supported by the Flemish Authorities & the Flemish Community Commission of the Brussels Capital Region.
Click here for current stage events
Click here for an overview of all events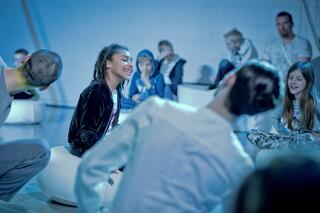 Festival · 23.02. – 09.03.2018
You're invited if that's ok?