German Premiere
Farruquito y Compañía
Improvisao
Dates
14.10.2017 – 15.10.2017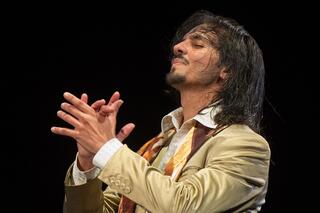 With "Improvisao", Spanish flamenco dancer Juan Manuel Fernández Montoya AKA Farruquito goes on a quest for the "now", the moment of emerging passion that, to him, is the essence of flamenco. According to him, "flamenco comes from the heart," and he belongs to the fourth generation of flamenco dynasty Los Farruco, with the legendary El Farruco as his grandfather. "Preparation for this moment began when I was five years old," states Farruquito in response to the question how he prepares for a performance such as this. Ever since childhood, Farruquito has unremittingly deepened knowledge and extraordinary technique to get everything he does exactly right, even whilst improvising. Together with guitarist Raúl Vicenti, singers Mari Vizárraga, Pepe de Pura and Antonio Villar as well as with percussionist Polito, Farruquito creates a special atmosphere. Farruquito was able to win young flamenco dancer and singer Gema Moneo, coming from the well-known Los Moneo flamenco family of Jerez de La Frontera, as a special guest.
Since 2012, Farruquito has been touring globally with "Improvisao" and will be guesting for the first time at tanzhaus nrw. He last thrilled Düsseldorf audiences with the German premiere of "Improvisao" at the 2016 Flamenco Festival.
Duration : 70 min.
Accompanying Programme

| | |
| --- | --- |
| Sat 14.10. |  19:00 introduction »Die Farrucos – Eine Legende« by Susanne Zellinger (in German) |
| Sun 15.10 | 17:00 physical introduction |
|   | discussion afterwards |
|   |   |
Dance: Farruquito; Guitar: Raúl Vicenti; Voice: Mari Vizárraga, Pepe de Pura, Antonio Villar; Percussion: Polito; Tourmanagement, Production: Daliris Gutierrez Flamencos por el Mundo, Manon van der Ham, Flamenco Libre Producciones.
Click here for current stage events
Click here for an overview of all events