Serge Aimé Coulibaly / Faso Danse Théâtre & Halles de Schaerbeek
Kalakuta Republik
Dates
16.06.2017 – 17.06.2017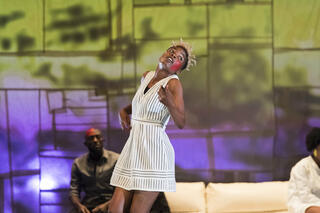 Inspired by Nigerian composer, musician, Afrobeat founder and political activist Fela Kuti, choreographer Serge Aimé Coulibaly creates a performance for seven dancers in which questions about the manifestations of political activism and which impulses spawn from social movements are central. In his new work, convincing via its highly energetic sound, the choreographer – alternatively residing in Burkina Faso and Belgium – reflects on the meaning that political and artistic positioning in Africa can take on today, in the context of a globalised world. The play's title refers to the name of Fela Kuti's estate, the base of an artist who, in his lyrics and political manifestos, formulated fundamental criticism aimed at the Nigerian political system since the 1970s. 
"Serge Aimé Coulibaly is among a generation of fascinating artists building artistic bridges between Europe and the African continent," Belgian director Alain Platel states about the Burkina Faso-born choreographer. Serge Aimé Coulibaly danced in Platel's works "Wolf" and "C(h)oeurs" and also collaborated with Sidi Larbi Cherkaoui in "Tempus Fugit". In 2015, he already guested at tanzhaus nrw with "Nuit Blanche à Ouagadougou", a play recalling the heated and sleepless atmosphere shortly before the overthrow of president Blaise Compaoré's regime in Burkina Faso in October 2014:"If you're born in a country, if you grow up in a country, where the political situation bears such a strong influence on even the smallest areas of everyday life, staging a play becomes a political act," says Serge Aimé Coulibaly.
Duration: 85 min.
Accompanying Programme

| | |
| --- | --- |
| Sat 17.06. | 19:00 physical introduction |
|   | discussion afterwards |
|   |   |
Playing furthermore on Wed 14.06. at the Africologne Festival in Cologne: www.africologne-festival.de
Concept, Choreography: Serge Aimé Coulibaly; Creation, Interpretation: Marion Alzieu, Serge Aimé Coulibaly, Ida Faho, Antonia Naouele, Adonis Nebié, Sayouba Sigué, Ahmed Soura; Music: Yvan Talbot; Video: Eve Martin; Dramaturgy: Sara Vanderieck; Choreographical Assistant: Sayouba Sigué; Setdesign, Costumes: Catherine Cosme; Light: Hermann Coulibaly; Technical Management: Sam Serruys. www.fasodansetheatre.com
 
A production by Faso Danse Théâtre & Halles de Schaerbeek, Brüssel, coproduced by Maison de la Danse, Lyon, Torinodanza, Turin, Le Manège – Scène nationale de Maubeuge, Paris, Le Tarmac – La scène internationale francophone, Paris, Les Théâtres de la ville de Luxembourg, Ankata, Bobo Dioulasso, Les Récréâtrales, Ouagadougo, Festival Africologne, Köln, De Grote Post, Ostende. Supported by the Musée des Confluences, Lyon, in the framework of a residency and funded by the Fédération Wallonie-Bruxelles, service de la danse. In cooperation with the festival Africologne.
Click here for current stage events
Click here for an overview of all events