Britta Koch
Britta Koch is not only active as a dance pedagogue, choreographer and dancer, but also as a certified remedial teacher and health advisor GGB. She is currently enrolled in a Master's course "V.I.E.W – Teach, Dance, Evaluate, Know" at German Sports University Cologne. "My wide-ranging education enables me to view my courses and workshops from many angles." Britta discovered her passion for dance at age 14, when she took modern jazz dance lessons. What was a hobby for many years became a profession following her remedial teacher studies at Cologne University. She completed her dance pedagogue training at Off-Theater Neuss. She widened her experiences in contemporary dance at, among other places, the Amsterdamse Hogeschool voor de Kunsten (AHK) (Amsterdam's Art University), at the Berlin Tanzfabrik, at tanzhaus nrw and at Impulstanz in Vienna. She later completed her education to become a Somatic Movement Therapist" in VMI technique (Vocal Dance & Voice-Movement Integration and Vital Movement Integration) with Patricia Bardi in Amsterdam. She has specialised in the field of inclusive dance for more than two decades, teaching it nationally and internationally. She gained far-reaching experience in this area through courses and projects by Adam Benjamin, Alito Alessi, Handicapace, Candoco Dance, Vera Rebel, Gerda König, and others. Britta Koch has been a tanzhaus nrw instructor since 2006.
Carlo Melis
Carlo Melis is among the most longstanding teachers at tanzhaus nrw. He has been teaching modern and jazz dance at the house since 1989, integrating influences from contemporary dance. "Contemporary dance's freedom challenges standardised techniques in modern and jazz dance, turning the gaze inward." Accordingly, Carlos' classes focus less on learning a technique but rather on rediscovering a strategy we have been carrying within from our earliest childhood movements: Being curious, experiencing oneself and one's body, feeling one's own emotions. The participants work on movements, but also always on their origins. "We only start dancing when emotions drive movements." Carlo entered vocational training to become a construction engineer for the sake of his parents, yet he has been fascinated by the arts early on in his youth, playing in physical theatre and in Living Theatre. Following a workshop with Bob Curtis, a pioneer in Afro contemporary dance, Carlo discovered dance: "I had never experienced such intensity. From that moment on, I knew that I wanted to dance." So, he started studying classical ballet, modern and jazz dance in his homeland of Sardinia at age 26. Later, he also graduated with a degree in theatre and dance education from several Italian universities. During a dance scholarship at the Folkwang University of the Arts, Carlo received tuition by great Wuppertal choreographer Pina Bausch, an experience that influenced his subsequent dance works. He contributed to TV productions, worked with numerous companies and taught at Arnhem University as well as elsewhere.
Chris Parker
Chris Parker successfully completed her dance education at the Folkwang University of the Arts and specialised in Limón technique, one of the most important schools in modern dance. José Limón is among the most distinguished 20th century proponents, establishing a dance technique that infuses a special dynamism into the movement sequences through the introduction of such elements as "fall and recovery", opening the possibility of quickly establishing a feeling of flow. Chris, originally from the US, concluded her studies on Limón technique with Ruth Currier and Clay Taliaferro and others in New York. Chris has been active as a dancer and choreographer in numerous projects since 1980 and was among the first artists at the "Werkstatt", tanzhaus nrw's precursor institution. The 1980s were a seminal era for many dance creatives here because many new dance aesthetics, teaching methods and artistic figures, especially from the US, turned them into a rising decade of change for contemporary dance. "I, for example, was lucky enough to be able to experience Pina in my first years at Folkwang University, and also being asked to participate as a dancer in stage productions by Reinhild Hoffmann and Susanne Linke, two more crucial dance theatre figures, in later years." Chris also encountered choreographers like Christopher Bruce or Hans Van Manen, recalling in conversation that it was a mark of distinction to be active at the "Werkstatt", because there, one met various artists from all over the world during an era when this was still absolutely uncommon. Chris still feels close to the house to this day, and her well-founded classes are respectful and clear in their communication, supportive and full of humour. She always sees the individual, concentrating on what is already there but might yet need discovery.
Elisabeth Schwartz
Dancer and dance historian, Elisabeth Schwartz has been dedicated herself to the interpretation of the Isadora Duncan dances that have been transmitted to her in New York in the seventies. She questions the continuous sway pattern and the expressive gesture in the early modern dance through I Duncan dances as well as through the scales of Rudolf Laban. Her research led her to a Ph.D. Thesis dealing with the paradoxical assertion of Isadora Duncan Inventing nothing in art. She transmits the Duncan repertoire to Amateurs and professional dancers, children, and adults. Besides dancing for Jérôme bel in "Isadora Duncan", she participates in Boris Charmatz's "20 dancers for the XXth century" and more.
Emma Valtonen
Emma Valtonen studied dance and dance education in Finland and Portugal. After many months of performing her graduation work in Finland, she now works as a teacher and choreographer in Finland, Italy and China, among other places. She loves travelling and has trained internationally in various dance styles - always curious and connected with the desire to explore new, unusual paths and movement languages. Various dance styles from urban dance, modern and jazz dance as well as different bodywork techniques shape Emma's style. Her way of teaching is very approachable and open, and her participants are enthusiastic about her "creative, focused, loving and humorous way of teaching". Emma herself says of her classes: "I want my students to be challenged without pressure or competition.
Ivana Kisic
Ivana Kisic is a freelance dancer and dance pedagogue with Croatian roots. She started out doing classical ballet in her youth, later dancing in shows and taking part in numerous competitions. Following her studies at ArtEZ University of Arts in Arnhem to become a dance pedagogue, she was in charge of the children, youth and adult sections of several dancing schools in Düsseldorf and the Ruhr Area. Ivana has also been teaching at tanzhaus nrw since 2007. She was part of the tanzhaus project "Take-Off: Junger Tanz" and took the stage as a performer in the production "the common people" by Belgian choreographer Jan Martens, also at tanzhaus nrw.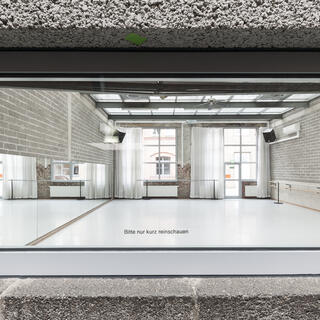 Joseph P. Cooksey
Dance educator Joseph P. Cooksey deploys Zena Rommett Floor-Barre Technique®, modern dance, modern ballet and jazz in his classes. He taught at the Juilliard School, at the Dance Theater of Harlem, at the Alvin Aily American Dance Center and at the Philadelphia College for the Performing Arts. He is a certified Zena Rommett Floor-Barre Technique® teacher as well as a Master Teacher at their respective annual certifications.
Nora Pfahl
Nora Pfahl graduated from her dance studies at ArtEZ University of Arts in Arnhem. She passionately danced ballet, modern and jazz dance from an early age. Since her graduation, she has been working internationally as an instructor, dancer and choreographer. Apart from her numerous freelance artistic works, she is also in demand as a choreographer for TV station KiKa, Junges Schauspielhaus, Tonhalle and tanzhaus nrw in Düsseldorf. Since 2006, Nora has been an instructor at tanzhaus nrw. "I am very happy to be able to do exactly what I love." Her acting debut – following her childhood's second dream job – was as the Red Riding Hood in Düsseldorf theatre collective Pièrre.Vers' production of "Rrr.käppchen". The collective also takes part in Düsseldorf's Asphalt Festival and düsseldorf festival! annually. Additionally, Nora choreographs and hosts the "Plutino" series at Tonhalle Düsseldorf, a work within the frame of "Take-off: Junger Tanz", initiated by tanzhaus nrw.
Othello Johns
We mourn our colleague and friend of many years, Othello Johns, who passed away at the age of 57. Othello studied at the Martha Graham School of Contemporary Dance, New York and at other institutions and had been teaching Modern Jazz Dance and breakdance at tanzhaus nrw. Dorothee Schackow, former director of the academy, says: "Othello Johns was a teacher who, over the course of 20 years, inspired hundreds of children and adults to dance, and who supported and enabled the careers of numerous urban dancers, and everything was imbued with his passion, infinite patience, energy and love." His great commitment towards tanzhaus nrw resonated strongly with course students, teachers and the team alike. Our thoughts are with his family and relations.
Bettina Masuch for the team of tanzhaus nrw
01/2021
Ricky Collins
Ricky Le Wayne Collins is a certified teacher of the Horton dance technique (Alvin Ailey School of Dance, New York).
He was born in Louisiana and raised in Oakland, California, and is proficient in Contemporary/Modern Dance (Horton, Graham and Dunham Technique) as well as Jazz Dance, Afrodance, Tap, and Ballet. After graduating from Merrit College in Oakland, he expanded his extensive training in Modern and Jazz Dance (Alwin Nikolais/ Murray Louis technique with José Esquivel, Bill Evans, Alvin Mc Duffy, Lynn Simonson, Cecilia Marta, Matt Mattox) and Afro Dance (Jermaine Acony, Charles Moore). After running his own dance school, he is present in the independent dance scene as a dance teacher and choreographer. Choreographies and dance for Afro ballet ensemble, Jazz Mania, solo performances on German television with modern choreography and with various artists.
Since Ricky sees himself as an interdisciplinary artist, he also learned singing with Simone Durante (National Theater Mannheim) and has been active for years as a painter, sculptor (under the pseudonym WAYNE LE ONE), and poet in other artistic fields.
Tanja Emmerich
Tanja Emmerich started dancing ballet at age eight. Later on, she took additional classes in modern dance and jazz with Carlo Melis and others. As a youth, she discovered the variety on offer at tanzhaus nrw and took even more classes in jazz dance and hip hop. Tanja studied at the ArtEZ University of the Arts in Arnhem and completed her dance pedagogy studies at the Weber-Schule in Düsseldorf. Following this, she obtained a certificate as a dance pedagogue at the Ballettseminar Stuttgart under the direction of Eva Steinbrecher. She has been teaching children, youths and adults in different dance styles while also working regularly as a choreographer for dance and theatre productions such as the Neusser Musical-Wochen. She has been a member of the core instructional team at tanzhaus nrw since 2015.