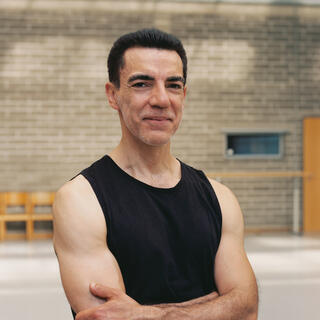 Alfonso Bordi
Dancer, teacher and choreographer Alfonso Bordi, born in Mexico, followed his dance education the Boston and Atlanta Schools of Ballet. Following different dancing engagements in Canada, Ireland and Germany, he is now among the most outstanding protagonists at Düsseldorf company NEUER TANZ under the direction of visual artist VA Wölfl.
Dawna P. Dryhorub
When Dawna P. Dryhorub first started ballet dancing at age three, the decision was already taken: "I want to be a dancer!" She took additional classes in tap dance, jazz dance and folkloristic dance, subseqently pursuing her dance education at the School of Toronto Dance Theatre where she specialised in Graham and classical dance. She received an invitation to collaborate on a project in Düsseldorf during the mid-1990s and swiftly became an artist close to the "Werkstatt", the precursor of tanzhaus nrw. The native Canadian remained in Germany and participated in various productions by, among others, Rodolpho Leoni and Samir Akika. She offered trainings at Folkwang Tanzstudio for many years and was a guest lecturer for classical dance at the Folkwang University of the Arts. 2020 will see Dawna concluding her Master's degree in dance sciences from Bern University in 2020.
Heinz Loigge
Heinz Loigge has been teaching at tanzhaus nrw since 1999. "I still have participants from those first courses in my classes. They mingle with the new and young participants." Heinz discovered his fascination for classical dance aged 15 at the municipal theatre of his hometown of Klagenfurt. He began his education at Tanzschule Nora Mackh, later going on to study at the master class of the Balletakademie München and dance pedagogy at the Cologne University of Music. He danced solo parts from across classical and contemporary repertoire, among them "Swan Lake", "Cinderella" and "A Midsummer Night's Dream", lastly holding the position of solo dancer at the Saarländisches Staatstheater. He finds the collaboration with teachers like David Howard, Martin Puttke, Ursula Borrmann and Gisela Peters-Rohse as well as the work of dance icons such as George Balanchine, Jiří Kylián, William Forsythe, Sidi Larbi Cherkaoui and Chrystal Pite especially ground-breaking. He is department head of dance at the Gymnasium Essen-Werden, the only German gymnasium joining together a general qualification for university entrance as well as professional education in classical and contemporary dance. Additionally, he worked as training guide for Introdans Arnhem and at the kölner tanz agentur (kta) as well as elsewhere.
Irene Vaqueiro Lorenzo
Born in Vigo (Spain), Irene Vaqueiro was trained at the Carmina Ocaña & Pablo Savoye Ballet School in Madrid. In 2008 she undertook her first engagement with the Corella Ballet. There followed engagements at English National Ballet and Cork City Ballet. From 2011 until 2018 she was a member of Ballett am Rhein Düsseldorf Duisburg under the direction of Martin Schläpfer. Irene Vaqueiro danced in pieces by Martin Schläpfer and in choreographies by George Balanchine, Nils Christie, Derek Deane, Natalia Makarova, Jerome Robbins, Hans van Manen, William Forsythe and Clark Tippet, among others. Irene Vaqueiro studied Pilates with Mabel Cabrera and Luisa Core in Madrid. In 2017 she made her Debut as costume designer when designing the costume for So-Yeon Kim's piece "49" within the program Young Moves. Furthermore, she started studying dance pedagogy at the Palucca Hochschule für Tanz Dresden in 2018.
Laila Clematide
What began as a paediatrist's recommendation to correct her posture became her profession: Laila has been dancing ballet since she was four years old, later on receiving an education as a stage dancer and dance pedagogue. She studied classical and modern dance at the Schweizerische Balletberufsschule in Zurich, at the Palucca School of Dance in Dresden and at L'École Atelier Rudra Béjart in Lausanne. Her first engagement led her to Tanztheater Basel. Laila has many years of experience as a stage dancer, having worked with choreographers like the legendary Maurice Béjart as well as with Joachim Schlömer, Rodolpho Leoni, Sabine Seume and also with visual artist VA Wölfl of Düsseldorf ensemble NEUER TANZ. Since 2010, Laila has been active as an instructor at tanzhaus nrw.
Ronaldo Navarro
Ronaldo Navarro was born in São Paulo/Brazil and successfully completed his ballet education in the Royal Academy of Dancing style. An engagement at Bremerhaven's municipal theatre led him to come to Germany in 1993, where he would go on to later freelance work as a dancer with dance theatre icons such as Reinhild Hoffmann or Johann Kresnik at his Choreographical Theatre at the Volksbühne am Rosa Luxemburg Platz in Berlin. Ronaldo has been living in Düsseldorf since 2007, working as a classical ballet teacher. In July of 2016, he published his third book in Brazil, this time revolving around his experiences in dance: "Etapas de um artista da dança".
Tanja Emmerich
Tanja Emmerich started dancing ballet at age eight. Later on, she took additional classes in modern dance and jazz with Carlo Melis and others. As a youth, she discovered the variety on offer at tanzhaus nrw and took even more classes in jazz dance and hip hop. Tanja studied at the ArtEZ University of the Arts in Arnhem and completed her dance pedagogy studies at the Weber-Schule in Düsseldorf. Following this, she obtained a certificate as a dance pedagogue at the Ballettseminar Stuttgart under the direction of Eva Steinbrecher. She has been teaching children, youths and adults in different dance styles while also working regularly as a choreographer for dance and theatre productions such as the Neusser Musical-Wochen. She has been a member of the core instructional team at tanzhaus nrw since 2015.
Tereza Matos
Tereza Matos completed her studies in classical ballet and modern dance at Brazil's Universidade Federal da Bahia. She was subsequently invited to journey to Germany by renowned Wuppertal choreographer Pina Bausch, later studying at Folkwang University of the Arts in Essen. Here, she graduated as a classical ballet dance pedagogue in 2008. Tereza took part in several opera and musical theatre productions. She accumulated more than 35 years of stage experience in pieces like "Orpheus und Eurydice", "Hair", "Die Bassgeige" and as a guest dancer at Essen's Grillo Theater, as well as in Dortmund and Aachen. Among her colleagues and role models are Jean Cébron and Susanne Linke, both seminal choreographers, in their works closely linked with the Folkwang University of the Arts.
Yim Ming Yong
"Dance is such a wonderful way to express oneself. When I started dancing, I just wanted to
move to no particular form. Just being in touch with that part in myself that felt joy in moving
was so precious. Ballet gave this joy a structure, and what a structure!" Yim Ming Yong had her first ballet experience when she was eight years old, leaving her homeland of Malaysia aged 16 to begin her education at the Royal Ballet School in London. While there, she was spotted by Lothar Höfgen, director of the Hanover Ballet, leading to an engagement in Hanover. This was followed by stints with Peter van Dyk and Your Vamos in Bonn as well as with Heinz Spoerli in Basel. She has been a guest lecturer in dance institutions like tanzhaus nrw, Cologne Dance Centre, DPAC (Damansara Performing Arts Centre, Malaysia) and within the framework of the LAG (Landesarbeitsgemeinschaft Tanz NRW e.V./ State-Wide Association for Dance) since 2002. Additionally, Yim Ming trained several companies such as the Würzburg Ballett, Ballett Mönchengladbach/ Krefeld under the direction of Robert Noth, as well as the Singapore Dance Theatre. She has been a returning jury member at the "Solo Classical Ballet Competition" in Malaysia. Yim Ming is preceded by a reputation as an empathetic as well as highly competent instructor with a fine grasp for musicality and a close relationship to tanzhaus nrw, where she has been teaching since 2003.