Ousmane Sy & Paradox-Sal
Queen Blood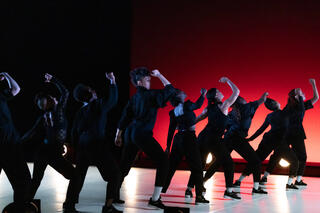 Everything begins with music. Not with just any music, but with house. Queen Blood transfers the house spirit onto the stage, opening up a powerful creative space between stage and club: It becomes hard to adhere to the unwritten rules of the theatre room, wherein the audience is confined sit still and watch. Queen Blood gathers several different gestures and musical influences ranging from hip hop to locking and popping. Yet the piece constantly sends only one message throughout: the dance itself. The virtuoso Paradox-Sal dancers present house dancing as a common language and become ambassadors of Ousmane Sy's reflection on the corps de ballet, in which the individuals in their uniqueness take up space, despite synchronicity.
Ousmane Sy (1975 – 2020) was part of collectif FAIR-E which currently heads the Centre chorégraphique national de Rennes et de Bretagne. One foot in the club, the other in battle: Between those spheres of expression, Ousmane, widely known as "Babson", dedicated himself to house music and became one of its foremost ambassadors in France. He founded the Paradox-Sal crew with exclusively female dancers and developed Queen Blood, his fourth show, together with them.
Duration: 60 min.
Accompanying programme
Choreography: Ousmane Sy; Choreography assistance: Odile Lacides; Dance: Anaïs Imbert-Cléry, Audrey Minko, Cynthia Lacordelle, Dominique Elenga, Linda Hayford, Megane Deprez, Mwendwa Marchand, Nadia Gabrieli-Kalati, Nadiah Idris, Odile Lacides, Valentina Dragotta; Sound and arrangements: Adrien Kanter; Costumes: Hasnaa Smini.
A creation of All 4 House; Production: Garde Robe; Delegated production: CCNRB; The Centre chorégraphique national de Rennes et de Bretagne is directed by the collective FAIR-E and is an association subsidized by the Ministry of Culture (Direction régionale des Affaires culturelles / Bretagne), the City of Rennes, the Regional Council of Brittany and the Departmental Council of Ille-et-Vilaine. Co-produced by: Initiatives d'Artistes en Danses Urbaines I Fondation de France - La Villette 2018, La Villette 2019, Centre de la danse P. Doussaint GPS&O, Centre chorégraphique national de La Rochelle I Compagnie Accrorap - Kader Attou and Centre chorégraphique national de Créteil et du Val-de-Marne I Compagnie Kafig direction Mourad Merzouki dans le cadre de l'accueil studio. With the support of DRAC Ile de France in the framework of the 2017 project grant, ADAMI, Arcadi Ile-de-France, the City of Paris in the framework of the 2018 residency grant, Initiatives d'Artistes en Danses Urbaines - Fondation de France - La Villette 2017, 2018 and 2019, Maison Daniel Féry - maison de la musique de Nanterre, Ville de Lille - Maisons Folie - FLOW and the Spedidam. Acknowledgements: Allauné Blegbo, Stéphanie Paruta. Supported by the Kunststiftung NRW. With the kind support of the Institut français and the French Ministry of Culture.
Click here for current stage events
Click here for an overview of all events