Olivia Hyunsin Kim/ddanddarakim
History has failed us, but…
Dates
03.06.2022 – 04.06.2022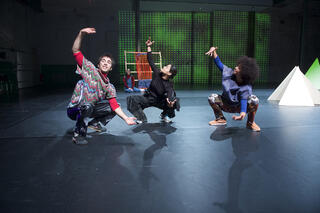 "If I can't dance, it's not my revolution." These words, ascribed to anarchist Emma Goldman, are the basis for the History has failed us, but… performance, and they underscore the choreographic dealings with protest and resistance. How does a dancing body become an empowered body, and how can opposition rise from this empowerment? How can individual and collective bodies in motion gain any ability to resist? Which narratives and images of resistance become ingrained in memory, and how can we talk about them?
Inspired by past and present insurrections against injustice, such as the Gezi Park protests in Turkey, the viral feminist performances of Las Tesis and the anger about the Sewol tragedy in South Korea, History has failed us, but… relates protest movements from the perspective of queers and people of colour. The choreography combines visions of future demonstrations with traditional dances that already exist – like the Korean Ganggangsullae which has been cathartically danced by groups of women during the full moon for centuries –, becoming an interplay between playful ease and political urgency.
Olivia Hyunsin Kim (올리비아 Hyunsin 金) works as a choreographer and curator. Her works are dedicated to a critical debate on volatile socio-political topics such as motherhood, care work, and scenarios of co-existence. She won the 2019 Amadeo Antonio Award with her work Miss Yellow and Me – I wanna be a musical. Ddanddara(딴따라) is a Korean word for artist or entertainer, derived, it is said, from the sound of a trumpet, depicting artists as "dubious", and not only in a positive sense. Under the ddanddarakim name, she collaborates with artists on feminist and post-colonial topics in a "dubious" manner.
Duration: 70 min.
Fr 03.06. ab 19:30

Festival opening

Sa 04.06. 18:30

Introduction in the foyer by Isabel Gatzke

Sa 04.06.

with audio description & tactile guidance. Tactile tour at 18:00. Registration at ticketservice@tanzhaus-nrw.de
DGS is cancelled!

So 12.06. 13:00 – 14:30

Workshop If I can't dance, it's not my revolution with Olivia Hyunsin Kim
Concept, choreography, performance: Olivia Hyunsin Kim; Performance: Enis Turan, Ji Sun Hagen, Tatiana Mejia; Music, Performance: Tatiana Heuman; Dramaturgy: Isabel Gatzke; Artistic collaboration: Ixchel Mendoza Hernandez; Stage, costumes: Kristin Gerwien; Light, video: Jones Seitz; Pop Up Kitchen: Vicky Truong; Advice on accessibility: Hyemi Jo; Graphic design: Christian Cattelan; Equipment assistant: Luca Plaumann.
A production by Olivia Hyunsin Kim/ddanddarakim in co-production with Sophiensæle. Funded by the Senate Department for Culture and Europe, the maecenia Foundation and the Performing Arts Fund with funds from the Federal Government Commissioner for Culture and the Media as part of NEUSTART KULTUR.
Click here for current stage events
Click here for an overview of all events
Festival · 03. – 12.06.2022
VOLUME UP