Liz Rosenfeld & Rodrigo Garcia Alves
THANK YOU FOR YOUR EFFORT, EVEN IF THESE REQUESTS CANNOT BE FULFILLED
Dates
09.06.2022 – 10.06.2022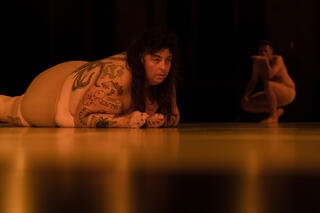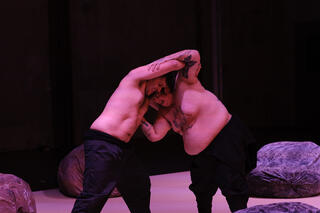 In Rodrigo Garcia Alves' and Liz Rosenfeld's first duet for the stage, they create a concept for a contemporary communal hospice. To achieve this, they weave together objects, stories, projections, and fantasies, fabricating future worlds for each other through experimental practice in dance, text, and video. Rodrigo Garcia Alves and Liz Rosenfeld, coming fromBrazil and the US, met in Berlin almost a decade ago and entered into an artistic exchange on their own wishes, experiences, and stories from a queer position on death, dying, and terminal care. Which options are there during this phase in life for queer communities and families who are not related? How would we like to be seen and perceived during this vulnerable phase in life?
The piece represents the ongoing development of the HOSPICE project that the artists carried out in cooperation with tanzhaus nrw and the Düsseldorf Diakonie. They met people who dealt pragmatically as well as creatively with death in their research, among them a palliative care physician, a critical care doula, a choir master, a bondage expert, and a tattoo healer. Imbued with these talks, this duet for the present resulted.
Liz Rosenfeld is an artist who works in the fields of film/ video, performance, and personal, discursive writing practice. Liz explores the sustainability of emotional and political ecologies, cruising methods, and both past and future stories. Rodrigo Garcia Alves is a choreographer and performance artist. He works with the concept of the artistic collage veering between autobiographical material, theatre, dance, performance art, as well as different manner of invisible knowledge from the global South.
Duration: 80 min.
Accompanying programme

| | |
| --- | --- |
| Fri 10.06. | with audio description and tactile tour by Anja Flessa/Gravity . Tactile tour at 18:00. Registration at ticketservice@tanzhaus-nrw.de |
| Sat 11.06. 13:00 – 14:30 | Workshop What my body has taught me with Rodrigo Garcia Alves |
Performance, concept, direction: Liz Rosenfeld & Rodrigo Garcia Alves; Original Music: Colin Self; Lighting Design: Catalina Fernández; Costumes, set design: Cardo Matos; Dramaturgy: Season Butler; Artistic Advice: Valerie Renay; Prop Making: Clarisse Canela; Seamstress: Dores Maués; Artistic Assistance, Technical Support: And*dre Neely; Bondage Expert: Dasniya Sommer; Artistic assistance, hospice doctor: Christian Küllmei; Artistic Support: Maicyra Leão; Videographer, trailer: TINT film collective; Production: Joseph Wegmann & Maicyra Leão.
A production by Liz Rosenfeld and Rodrigo Garcia Alves in co-production with Sophiensæle Berlin and Kampnagel Hamburg. Funded by the Performing Arts Fund with funds from the Federal Government Commissioner for Culture and the Media as part of #TakeAction. The piece is a continuation of the HOSPICE project, which Liz Rosenfeld and Rodrigo Garcia Alves developed as part of an artistic residency in collaboration between tanzhaus nrw and Diakonie Düsseldorf.
VOLUME UP is funded by the Kunststiftung NRW.
Click here for current stage events
Click here for an overview of all events
Festival · 03. – 12.06.2022
VOLUME UP