Movement exhibition / world premiere
Katja Heitmann
Motus Mori Düsseldorf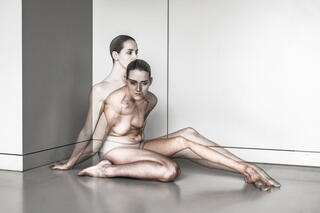 Details will follow.
Dates:
Thu 27.08. + Fri 28.08. 17:00 – 21:00
Sat 29.08. + Sun 30.08. 15:00 – 19:00
Concept, choreography: Katja Heitmann; Concept, music, production: Sander van der Schaaf; Performance: Wies Berkhout, Lea Christensen, Rebecca Collins, Manou Koreman, Eleni Ploumi, Ornella Prieto, Anne Roeper, Merle Schiebergen; Articstic and production assistance: Moene Roovers.
A project by Katja Heitmann / this is not a show, co-produced by Dans Brabant and tanzhaus nrw as part of Bündnis internationaler Produktionshäuser, funded by Beauftragte der Bundesregierung für Kultur und Medien. With the support of Performing Arts Fund, Province of Noord Brabant, municipality of Tilburg.
Click here for current stage events
Click here for an overview of all events