Young Tanzhaus
· Kleine Monster series
12.11. cancelled: tanzfuchs PRODUKTION / Barbara Fuchs
MISCHPOKE
Dates
09.11.2019 – 12.11.2019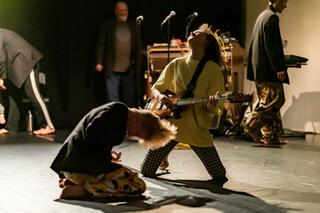 Please note: Unfotunately, the performance on Tue 12.11. doesn't take place.

In a ball, woven together, diverse, a cohort, a pack, a whole pride: the Mishpocha ("Mischpoke" in Yiddish German). The Yiddism "Mishpocha" denotes family, community, kinship. We are all someone's child, yet family constellations are as varied as human relations can be. "MISCHPOKE" plays with this web of relations between different generations, it is touching, humorous, energetic and impulsive. Professional dance creators and their children create a temporary communion. The 14-strong ensemble, with an age span ranging between 3 and 71 years, questions x-rays and scrutinises potential, changes and different qualities in relationships. A tentacled and antlered mishpocha treks through the room in order to newly discover the cosmos of relationships.
Cologne choreographer Barbara Fuchs founded her label tanzfuchs PRODUKTION in 2003, a company marked by innovative and interdisciplinary dance theatre arts for adults and children alike. "MISCHPOKE" puts different generations together on one stage. tanzfuchs PRODUKTION has been a recipient of the Excellence Grant of the State of North Rhine-Westphalia. The play will relocate to Düsseldorf, immediately following its premiere at Cologne's ehrenfeldstudios.
Duration: 50 min.
Accompanying programme

| | |
| --- | --- |
| Sun 10.11. | 17:00 Physical Introduction |
By and with: Lucas Cualbu, Odile Foehl, Barbara Fuchs, Sonia Mota, Nora Pfahl, Antonia Ritzenhoff, Jörg Ritzenhoff, Arthur Schopa, Louis Schopa, Karel Vanek, Lovi Voigt, Pella Voigt, Emily Welther, Caspar Winkelmann; Best Girl: Sara Boehm; Idea, Regie: Barbara Fuchs; Composition: Jörg Ritzenhoff; Lighting: Wolfgang Pütz, Barbara Fuchs; Costume: Stefanie Bold; Dramaturgy: Henrike Kollmar, Ursula Nill; Press and Public Relations: Kerstin Rosemann.
"MISCHPOKE" is a production by tanzfuchs PRODUKTION, co-produced by tanzhaus nrw as part of Take-off: Junger Tanz, funded by Kulturamt der Landeshauptstadt Düsseldorf as well as Ministerium für Kultur und Wissenschaft des Landes NRW. Funded by Kulturamt der Stadt Köln, Kunststiftung NRW and Ministerium für Kultur und Wissenschaft des Landes NRW. A residenzy was made possible as part of NRW Mittelzentren Förderung Bonn. tanzfuchs PRODUKTION receives the  promotion of excellence by Land NRW.

Click here for current stage events
Click here for an overview of all events