Young Tanzhaus
· Melancholia & Muscles series / German Premiere
fABULEUS & GRIP / Jan Martens
PASSING THE BECHDEL TEST
Dates
07.04.2019 – 08.04.2019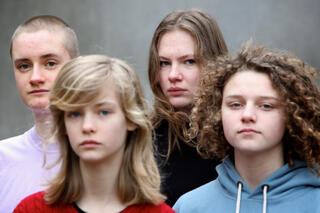 The Bechdel test, developed by cartoonist Alison Bechdel in 1985, takes a look at the roles and the depiction of women in film, and two thirds of all productions fail! The three test questions are as follows: 1. Are there more than two named female protagonists?, 2. do they talk to each other?, and 3. do they talk about something besides men? If the answer to all of these criteria is "yes", the film has passed the Bechdel test. In her cartoon, Alison Bechdel criticised how few women she saw on the screen and what roles they were given. Her approach became an analytical term that is used globally by feminist critics to assess TV shows, books as well as films.  For "PASSING THE BECHDEL TEST", 13 young people between 14 and 19 years of age rummaged through a century of feminist literature with Jan Martens – literature ranging from Virginia Woolf to Susan Sontag, from Toni Morrison to Maggie Nelson. It became clear to them they wanted to make the authors' voices as well their own voices heard. So, Jan Martens radically decided on language as a scenic device. An intimate portrait of the young dancers emerges, informed by their view on the world, but also by their own perception and their relations to others. Together, they develop a "Future Manifesto", drawing inspiration from Belgian author Rachida Lambaret and others: "The free speech is one of the few instruments to free oneself."
Choreographer Jan Martens' plays thrive on their authentic power and an undisguised view on the essentials as well as on the personalities of his performers. Jan Martens, Factory Artist at tanzhaus nrw from 2014 to 2016, has advanced into a rapid career by now, being in demand internationally with his energetic stagings. He is currently artist in residence at arts centre deSingel in Antwerp. His last production playing in Düsseldorf was "RULE OF THREE".
Duration: 120 min. / in Dutch, English, French, and German with German and English Subtitles.
Accompanying Programme

| | |
| --- | --- |
| Sun 08.04. | discussion afterwards |
|   |   |
Concept, Development: Jan Martens with Isabel Braamkolk, Noor Caestecker, A. Claassen, Renée De Coninck, Luna Glowacki, Bente Govaerts, Noor Hollemeersch, Birgit Lesage, Marie Libens, Hannah Peiren, Celina Vercruysse, Yanou Van Dessel, Mirren Vandenberk; Artistic Assistance: Kimmy Ligtvoet; Dramaturgy: Peter Anthonissen; Consultation: Rudi Meulemans; Light-Design: Elke Verachtert; Costume-Consultation: Lotte Stek; Management: Teresa Wouters, Sylvie Svanberg; Sale: Vincent Company; International Sale: A Propic / Line Rousseau & Marion Gauvent. www.grip.house
Photo: Künstlerarchiv
A production by fABULEUS & GRIP, coproduced by tanzhaus nrw in the framework of Take-off: Junger Tanz, funded by the Kulturamt der Landeshauptstadt Düsseldorf and the Ministerium für Kultur und Wissenschaft des Landes NRW. Furthermore coproduced by STUK. With support from the city of Leuven and the Flämische Gemeinschaft.
Click here for current stage events
Click here for an overview of all events