Virtual Reality Installation
fabien prioville dance company
Rendez-Vous
Dates
22.11.2018 – 25.11.2018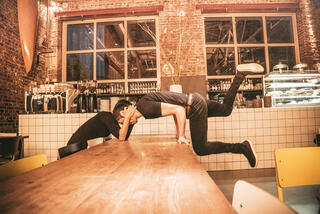 Far from the stage, equipped with VR goggles, the audience receives an invitation for a rendezvous with four dancers in everyday situations. A wholly individual entrance to the events opens, challenging the usual perspective. This installation plays with the senses and opens a new possibility for dance perception. Choreographer Fabien Prioville continues his collaboration with dancers Iker Arrue and Zuzana Zahradnikova with this project, working with dancer Louisa Rachedi, formerly of the Deutsche Oper am Rhein, for the first time. 
Educated at the Centre National de Danse Contemporaine (CNDC) in Angers and following stints with Édouard Lock and his legendary La La La Human Steps company as well as with Philippe Blanchard, Fabien Prioville transitioned to Pina Bausch's Wuppertal Tanztheater. He has been working as a freelance dancer and choreographer since 2006, drawing attention with creations on the fringes of performing art and multimedia. He is currently working on an interpretation of "Der Tod und das Mädchen (Death and the Maiden)" at the Regensburg Theater with Yuki Mori. 
Thu 22.11. – Sun 25.11. 15:00 – 17:00 & 18:00 – 20:00
in a 15-minute loop
Registration via info@fabienprioville.com erforderlich
Concept, Choreography: Fabien Prioville; Dance: Iker Arrue, Fabien Prioville, Louisa Rachedi, Zuzana Zahradnikova; Dramaturgy: Maren Zimmermann; Assitant: Friederike Hansen; Management/PR: Alexandra Schmidt; Technical Direction: Dr. Leif Oppermann, Constantin Brosda, Urs Riedlinger (Fraunhofer FIT, St. Augustin). A production by fabien prioville dance company, funded by the Kulturamt der Stadt Düsseldorf, the Ministerium für Kultur und Wissenschaft NRW and the Kulturbüro der Stadt Wuppertal, supported by tanzhaus nrw, Fraunhofer FIT, St. Augustin, Riedel Communication Wuppertal. An event by tanzhaus nrw in cooperation with »Next Level 2018 – Festival for Games« of the NRW KULTURsekretariat.
Click here for current stage events
Click here for an overview of all events