nadaproductions / Amanda Piña
Dance & Resistance, Endangered Human Movements Vol. 2
Dates
03.02.2018 – 04.02.2018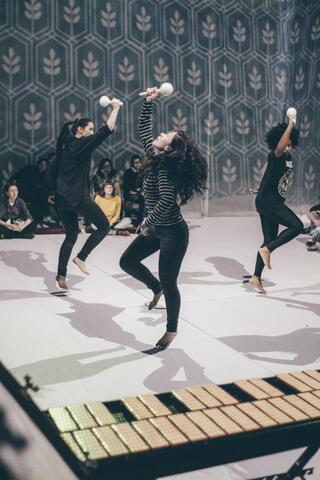 Milamala, Danza de la pluma, Rey Colorado and Sakkudei: Traditional dances from all five continents, according to choreographer Amanda Piña, function as a knowledge depository on people, environment and relationships, reaching far beyond language. In "Dance & Resistance", her work is dedicated to dances from all around the world, dances that were anthropologically classified as "ritualistic" during the last century, ethnographically documented in studies and prohibited during colonisation, persecuted or forced into other forms to the point of unrecognisable change. 
Amanda Piña collaborates with her audience on bringing those dances into the present: Through movement, the bodies recharge knowledge and resistance potential that was inherent in those dances and almost lost through exploitation of nature and humans alike. So, it becomes a rediscovery of skills that mark living with and in our environment. In this, the work explores the body's potential resistance in the context of neo-liberal economics and an increasing privatisation of natural resources. Visual artist and film-maker Daniel Zimmermann created a dedicated space in constant transformation that grants an intimate performance experience despite global questions. 
"Endangered Human Movements" is a long-term research project and performance series all in one: Amanda Piña and Daniel Zimmermann, under the umbrella of their label nadaproductions, have been working on this project continuously, with different co-operation partners, since 2014. In different formations, they delve into reconstruction, recontextualisation and re-interpretation of movement as a form of cultural resistance. 
Duration: 70 min. 
Accompanying Programme

| | |
| --- | --- |
| Sat 03.02. | discussion afterwards |
| Sun 04.02. | discussion afterwards |
| Tue 30.01. – Fri 02.02. | 17:00 – 19:30 Workshop »Endangered Human Movements« for participants with and without prior dance experience |
Artistic Direction: Amanda Piña, Daniel Zimmermann; Choreography, Dance, Performance: Amanda Piña, Alma Quintana, Yusimi Moya Rodriguez, Linda Samaraweerová; Choreographical Sources: Yaqui, Mayo, Navajo, Gertrud Bodenwieser, Mixtecs-Mexicans, Mapuche Huilliche, Hanna Berger, Tabiteuea Islanders-Kiribati Republic, Trobriand Islanders, Tenek, Sakkudei; Composition, Live-Music: Shayna Dunkelman & Christian Müller; Light: Victor Durán; Stage, Projections: Daniel Zimmermann; Choreo- graphical Assistant: Paula Chavez; Dramaturgical Consultation: Angela Vadori; Costumes: Francesca Aldegani, Anke Philippe; Management, Research: Sarah Blumenfeld, Lise Lendais. www.nadaproductions.at
A production by nadaproductions.at, coproduced by De Singel International art campus and Tanzquartier Wien. The project »Endangered Human Movements« is supported by ImpulsTanz Wien – Vienna International Dance Festival, NAVE, Creation and Residence Center Santiago de Chile and Tanzquartier Wien. Furthermore supported by BY MA7/Kulturabteilung der Stadt Wien, BMfB/Bundesministerium für Bewegungsangelegenheiten, BKA Kunst und Kultur/ Bundeskanzleramt Österreich. The guest performance takes place in the framework of the series CEREMONY NOW!, funded by the Kunststiftung NRW.
Click here for current stage events
Click here for an overview of all events