Hosted by Franky Dee & Busy Beast
You're invited: Jam & Battle
Dates
24.02.2018 – 25.02.2018
Urban dance, rap, contemporary dance, sign language – whatever the language you use to express yourself artistically, take part in the battle at tanzhaus nrw! Hip hop dancer Franky Dee will host the evening, and the invitation also comes from ZAKK's rap label. Here, different genres will meet, and all participants compete in virtuosity and improvisational skills. 
Click here for current stage events
Click here for an overview of all events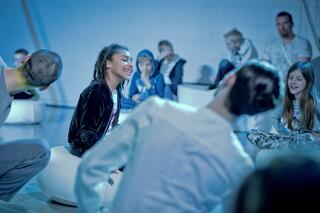 Festival · 23.02. – 09.03.2018
You're invited if that's ok?