Sorour Darabi
Natural Drama
Dates
15.09.2023 – 16.09.2023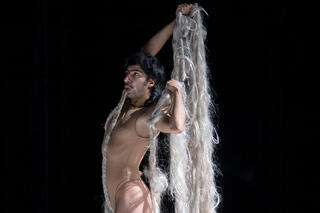 Natural Drama speaks about the body as an area marked by concepts of nature and naturalness, challenging representations and constructions of the so-called feminine body.
Sorour Darabi finds the inspiration underpinning this examination in the lives and works of both dancer Isadora Duncan as well as Iranian princess, intellectual, author, painter, feminist, and women's rights pioneer Zahra Khanom Taj Saltaneh.
Sorour Darabi employs Isadora Duncan's choreographies as the foundation for a sensual and emotive choreography that is intertwined with textual layers that are sung, spoken, and projected. In a dream-like stage setting, accompanied by atmospheric, calm sound design, the audience encounters a dance from the future in the piece. A future in which light could be made from shadows, in which all things are connected in new, unfamiliar, and complex manners. A non-binary future for which we have held out for so long.
Originally from Iran, Sorour Darabi currently lives and works in Paris. As part of underground organisation ICCD, Sorour Darabi actively worked in Iran, performing at the Untimely festival, organised by the ICCD in Tehran, prior to his departure for France. During studies at the CCN de Montpellier, Sorour Darabi created Subject to Change, a performance scrutinising change regarding time and communion with an environment. This was followed by the solo Farci.e in 2016 which dealt with concepts of language, gender identity, and sexuality. Sorour Darabi's solo performance Mowgli was dedicated to the jungle as the crossroads of contemporary myths. Back in 2021, Sorour Darabi already guested at tanzhaus nrw with the work Savušun as part of the Volume Up Festival.
In English and Persian.

Duration: 60 min.
Accompanying programme

| | |
| --- | --- |
| Sat 16.09. | Talk after the performance |
Backstage with Sorour Darabi
"Performing Natural Drama is quite challenging for me, because it's a very frontal piece. In front of the audience I feel quite naked although I'm not physically naked (I mean almost something between naked and covered, a sort of second skin). But I'm super exposed. Most of the time my pieces are bringing me to a place that is quite exposed. That's very challenging and I think I really like this challenge. "
Concept, choreography, performance and texts: Sorour Darabi; dramaturgy: Lynda Rahal; music composition and sound design: Pablo Altar; lighting design, stage: Yannick Fouassier; stage design, set and costume: Alicia Zaton, Marine Peyraud, assisted by Juliette Ritter from an idea by Sorour Darabi; stage management: Jean-Marc Ségalen, Selma Benramdane; voice coaching: Pierre Derycke; production management:  Deep Dawn Aka Association Mi-Mai
A production by Sorour Darabi and Météores in co-production with Centre national de la danse - CND Pantin, Festival d'Automne Paris, ICI-CCN Montpellier - Occitanie / Pyrénées Méditerranée as part of the Europe Creative Life Long Burning project, supported by the European Union, L'Echangeur - CDCN Hauts-de-France, La Maison CDCN Uzès Gard Occitanie, WP Zimmer, Beursschouwburg, Black Box Theater, Tanzquartier Wien, Frascati Theater, PICA (Portland Institute of Contemporary Art). Supported by DRAC-Ile des France and SPEDIDAM. Studio grants Ballet du Nord - CCN Roubaix Hauts de France, Centre national de la danse Angers, Stuk Kunstencentrum Louvain, Agora/Montpellier danse, Trauma Bar & Kino.
Sponsored by Alliance of internationale Porduction Houses, supported by Beauftragte der Bundesregierung für Kultur und Medien.
Click here for current stage events
Click here for an overview of all events