Premiere
Choy Ka Fai
Dance Clinic
Dates
29.06.2017 – 01.07.2017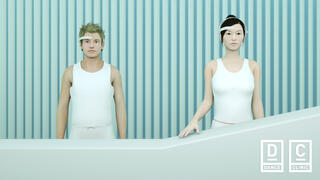 Where does it hurt? What kind of therapy and medication does the patient require? Media artist and self-proclaimed "dance doctor" Choy Ka Fai, educated in Singapore and London, invites choreographers to enter his "Dance Clinic". Every performance equals an individual consultation in which artists receive a read-out of their respective individual work methods, including a symptoms analysis, a check for weak points, a treatment plan and pointers for optimisation, with aid provided by "Ember Jello", an artificial intelligence prototype developed by Choy Ka Fai. With ironic reference to the common fascination for technology, Choy Ka Fai, at once virtuosic and entertaining, stages a performance that drags the relation between choreography and science as well as the relation between technological and creative processes to the fore.
The former stipendiary at the Berlin artist house Bethanien showed the first results of his research on the intertwinings of dance and neurological processes during the TEMPS D'IMAGES festival at tanzhaus nrw already in last January. His research continues within residencies at tanzhaus nrw. "I am interested in appropriating many existing technologies, to reflect them, to dissect them and reassemble them in order to develop projects with a critical focus that go beyond mere entertainment," says Choy Ka Fai. The first time he presented a work in Düsseldorf was in 2015, when he showed "SoftMachine: Rianto", in which he introduced his multimedia archive and research project on Asian dance cultures coupled with a critique on Western-dominated perspectives on dance in Asia.
Duration: 60 min.
Concept: Choy Ka Fai; Artificial Intelligence Agent: Ember Jello; Interface Design: Yusuke Kimura; Visual Design: Brandon Tay; Light-, Roomdesign: Ryoya Fudetani; Management: Mara Nedelcu. www.ka5.info
A production by Choy Ka Fai, coproduced by tanzhaus nrw in the framework of MOCCA – Motion Capturing Creative Area, a project of the Hochschule Düsseldorf, Fachbereich Medien, LAVAlabs, Velamed GmbH and tanzhaus nrw, funded by EFRE. Furthermore coproduced by Da:ns Festival Esplanade Theatres on the Bay, Singapur.
Click here for current stage events
Click here for an overview of all events